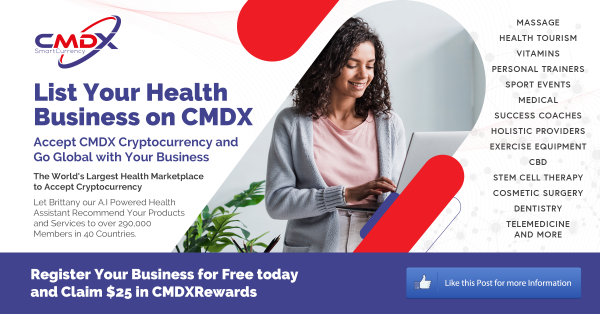 - April 16, 2021 /PressCable/ —
With ambitions of being the AWS of the CryptoCommerce Sector, CMDX sets its sights on healthcare instead of books
Though the cryptocommerce sector is growing exponentially, e-commerce giants like Amazon and eBay have shown reluctance to adopt crypto as a payment form. With this in mind, some experts think that the industry will likely benefit from creating its own e-commerce ecosystem instead of waiting around for other platforms to accept their tokens as a form of currency.
There are numerous benefits to creating a crypto-driven e-commerce ecosystem. First, crypto could be leveraged in the way it was meant to be—a more equitable way of doing business that puts a stop to tech giants becoming richer and richer while small companies and sellers suffer. Secondly, it could benefit the average seller since crypto-driven transactions have much smaller fees associated with them, passing the savings on to those who choose to sell their products within the crypto-driven economy and boosting their profit margins.
And perhaps one of the greatest benefits of a crypto-driven e-commerce platform would be the broader global inclusion of both buyers and sellers. The biggest e-commerce sites require a debit or credit card to buy and sell on their platforms, which means access to a bank account. For many worldwide, having a bank account is unrealistic due to financial regulations or corrupt banking systems in their countries. However, a crypto-driven platform would remove such hurdles, opening up markets to new global populations who have been excluded from the current e-commerce economy.
A few revolutionary companies are leading the way in opening up e-commerce to a broader global audience by relying on cryptocommerce. CMDX, the world's top health cryptocurrency network, is one of these brands leading the way in revolutionizing the landscape and possibilities of e-commerce. CMDX community members share their health data with the company through wearable fitness tech, and they are then rewarded with cryptocurrency. Members can then spend their crypto on anything they want or save it and invest it how they see fit.
CMDX has created its own crypto-driven economy focused on healthcare. The CMDXMarket features business owners selling healthcare products and services, which can be purchased using CMDX crypto rewards. CMDX connects business providers to those searching for their services through Brittany, CMDX's AI-driven personal assistant.
As CMDX leads the charge in transforming the cryptocommerce sector, the company continues to find ways to make the crypto marketplace accessible to a wider number of investors. As the market gains traction, transaction fees on the blockchain continue to be a concern. The CMDX team is investigating ways to innovate in the offchain market as well to create the most powerful, accessible, and affordable crypto market on the web.
"CMDX is committed to opening up e-commerce markets to more people across the globe, specifically by making healthcare services and products more affordable and accessible to all," said Tom McMurrain, CEO of CMDX. "The crypto environment opens up these opportunities in exciting new ways, and CMDX continues to innovate to give people more opportunities to buy and make money via cryptocommerce."
Release ID: 89004262