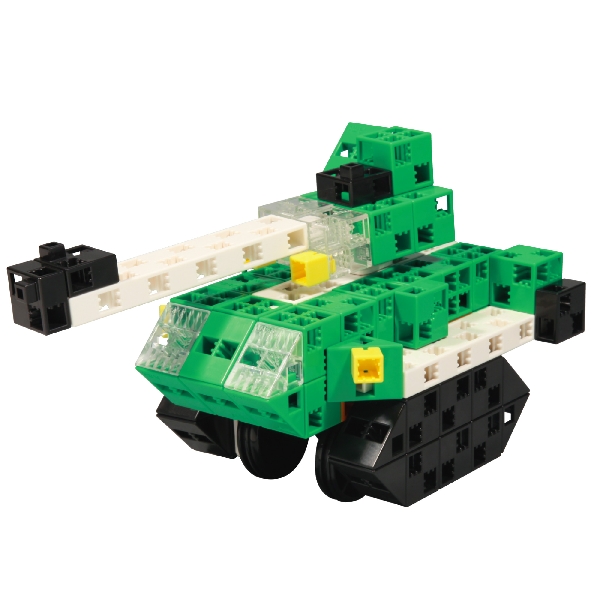 - April 10, 2015 /PressCable/ —
Click-A-Brick announces its latest educational toy offering; the Army Defenders 100pc Educational Toy Building Blocks Set has now been launched on Amazon.com. The set retails for $39.99.
With colors of black, green and brown, inspired by military camouflage, plus white and clear bricks, the Army Defenders set comes with instructions for building a number of different military vehicles, plus a robot. It comes with wheels for the vehicles so children can play with their creations once they are built. Bricks from the set can also be connected to bricks from Click-A-Brick's Animal Kingdom Safari set.
Co-Founder Jason Smith says the Click-A-Brick team is ecstatic to release the new set and believes it solidifies the company's commitment to long-term success.
"We love the new set," he stated. "It's going to be a lot of fun for kids and parents and customers are getting a great deal on it. The things you can build with it are so cool and the instructions are easy to follow. My kids have been playing with it almost non-stop, so that's proof enough for me that this set is going to be just as successful as the last one. We plan to be around for a long time and releasing our second is a great next step for the company."
Fellow co-founder and brand manager Georg de Gorostiza shared those sentiments, noting that the larger set is the next logical step for the company.
"I think of it like the smaller set was testing to see if people would be receptive to this toy and now we're really ready to put things into the next gear and get things rolling. We want to be releasing new sets on a regular basis and we have a lot of plans for the future. But, for now, we're just excited to get this second one out there and get kids playing with it. It's a great set and we want to focus on that for now."
Click-A-Brick decided to launch a larger set after garnering feedback from customers who said they wanted a set with more bricks. The Click-A-Brick team says it will continue to ask customers for their feedback to help them decide on and plan future set releases.
Release ID: 79032