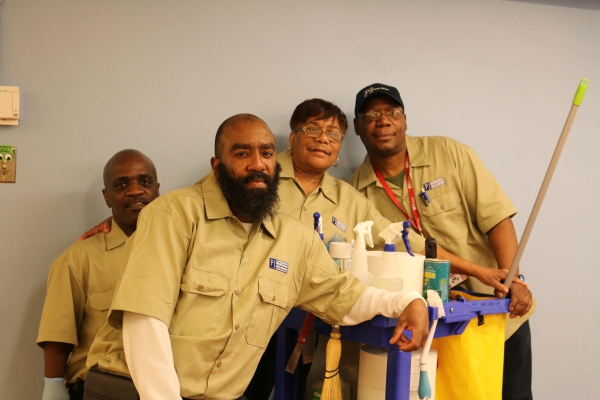 - April 26, 2017 /PressCable/ —
West Philadelphia is known for its grand historic past with houses of historic colonial beauty. It is also known for the number of institutions of higher learning who have based their campuses there. It is also known for its areas of abject poverty and high unemployment rates.
Over many years, the presence of such fine institutions such as The University of Pennsylvania, Drexel University, and The University of the Sciences have provided well documented and much needed employment opportunities for the local community.
Less well known and is the fact that for the past 47 years, a small West Philadelphia company based on Baring Street 19104 – Penn Jersey Building Services Inc., has employed 90% of its workforce from the West Philadelphia neighborhood, with the remainder coming from equally challenged areas of the North East and North West corridors of Broad Street and Roosevelt Boulevard.
In addition, every late Spring (may 1st) since 1970, the company essentially triples its staff by taking on 60 or so additional employees for a four-month period, directly from the West Philadelphia population. This is undertaken as part of a project to provide summer student turnaround cleaning, after construction cleaning, and conference support services to the University of Pennsylvania.
Over the years many of the same people return, and often their offspring have also come along as they've grown up. Whole families of West Philadelphians have worked for Penn Jersey over two or three generations. 60 individuals each year since 1970 have been provided with opportunities to work and earn income by two of the oldest partners in West Philadelphia – Penn Jersey and the University of Pennsylvania. Many of them have become full-time employees over the years and this trend continues today.
This strategy was developed by the founder of Penn Jersey, 92 year-old Ruby Katzin, and is continued today by his protégé, Glenn Stieffenhofer and his son Cliff Katzin.
Ruby says, "When I started the company my vision was to provide for my family with secure and long term business growth, and to work within the local community to provide jobs and financial opportunities to the West Philadelphia population."
Glenn says "I joined the Penn Jersey family in 1986 and this tremendous initiative had been running already for 16 years. It is clear to me that the relationship Ruby and Millie had built with the local community sustained us then, now, and will continue to do so for many years to come. Our staff intake become well trained and over time vastly experienced in the demanding disciplines of our work at the Universities and businesses in Philadelphia as a whole."
Cliff Katzin says, "My father basically instilled in all of us that this relationship with the West Philadelphia population was a 'no brainer'. A win-win for all concerned. He strongly believed that what goes around, comes around, and by doing well for the people, we would ultimately succeed ourselves and ensure longevity for the business."
In the first week of May, orientation sessions are held on the UPenn campus for the intake of employees. The sessions include safety briefings on all aspects of the work including construction safety requirements, rules and regulations regarding housing facilities, and briefings from the local UPenn Police Department. Over the years these serve to bond the new faces with the returning workforce and build close ties to the University personnel involved.
Release ID: 190454