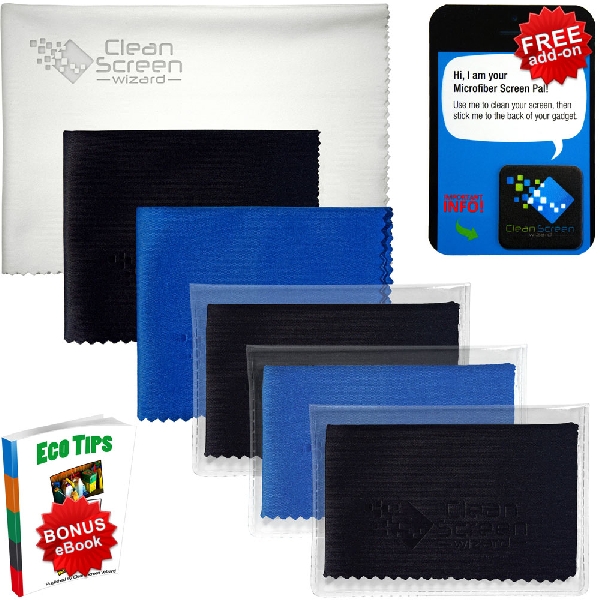 - August 21, 2014 /MarketersMEDIA/ —
Svendborg, Denmark – August 21st, 2014 /PressCable/ —

Clean Screen Wizard a Danish company based in Svendborg, recently launched a new version of their top selling product Clean Screen Wizard Microfiber Cleaning Cloth 6-Pack. This new microfiber set has been specifically created for cleaning screens of a variety of gadgets, electronic devices and delicate surfaces such as smartphones, tablets in general, computer monitors, laptops, optics, jewelry, CDs, DVDs and TV screens.
The original 6-pack version included both large and medium size microfiber cloths in 3 different colors: white, blue and black to avoid crisscrossing when cloths are intended for different purposes. The kit has one large (12 x 8 inches) white cloth equivalent to a normal US letter-size sheet of printer paper and five M-sized cloths in blue and black (7 by 6 inches).
The kit now includes a bonus high quality microfiber sticker, a portable screen cleaner solution for cellular phone, smart phones, cameras, glasses and other delicate & small surfaces. This easy and useful bring-along microfiber sticker, will help customers take proper care of their sophisticated and expensive gadgets anywhere-anytime. It can be stuck to the back of an electronic device so it will be at hand at all times. When it's to be used, unstick, place on a finger and swipe the surface to be cleaned with the microfiber side, once done, adhere to the back of the device once again. These microfiber stickers are washable in lukewarm water so they can be reused for a long time.
When talking on this special occasion, Johanna Rivero, the company owner commented, "We redesigned our product to give customers a better and more adaptable solution for their different needs. We understand that electronic devices vary in many aspects, specially in sizes, so there has to be a screen cleaner solution that adjusts to each one, and that's why we have included our microfiber sticker, Screen Pal, to the kit. Now we can offer a large, medium and small portable cleaning solution on hand when needed."
She further added, "We are of course pleased of achieving our 5-star product review level on Amazon.com, but it does not mean that the company won't search for new and better ways to fulfill higher customer expectations and needs".
Clean Screen Wizard Microfiber 6-pack sells exclusively on Amazon.com for a retail price of $19.99, and now customers can enjoy a 50% off limited time offer, and buy the product including the bonus cleaning sticker for just $9.99. Company also offers its WIN-WIN satisfaction warranty, if the product fails to offer gentle, streak-free display cleaning, clients can get a 100% refund – no questions asked. It's a win/win chance across the board: Customers are guaranteed a hassle-free shopping experience on Amazon, while giving their devices the very best in screen cleaning care.
New updates on this Microfiber Screen Cleaner will be notified by Clean Screen Wizard through Moojou Enterprises in the near future through their social media accounts, so readers and new customers can benefit with future promotions and limited-time offers and special discounts.
Contact Info:
Name: Johanna Rivero
Email: information@cleanscreenwizard.com
Organization: Moojou Enterprises
Website: http://www.cleanscreenwizard.com
Phone: 1-800-280-4850
Address: Munkevaenget 8, 2.TV
Release ID: 60166