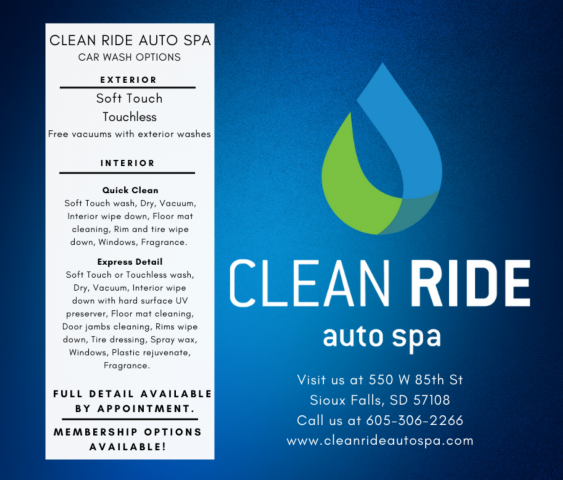 - February 14, 2020 /PressCable/ —
Local Residents Looking for a great Car Wash · Coffee Shop · Pet Services all in one convenient place in the Sioux Falls South Dakota Area are invited to enter into the latest contest sponsored by Clean Ride Auto Spa. In addition to A 6 Month Membership to Clean Ride Auto Spa people have the opportunity to win:
A 6 Month Membership to Clean Ride Auto Spa – Access to our state of the art Auto Spa Facility for 6 months
Three (3) One-Month memberships to Clean Ride Auto Spa – Access to our state of the art Auto Spa Facility for one month for 3 lucky people.The contest is being held to bring attention to Vehicle Cleaning and Detailing – full information can be found on the website: https://cleanrideautospa.com
When asked about the competition, Dale Dreessen, Founder and Partner, had this to say about why people should enter:
"Clean Ride Auto Spa was envisioned because you deserve a perfect looking car, a good cup of coffee, and an overall great experience. Clean Ride provides multiple touch-less washes, a full detailing shop, coffee, and a self serve pet wash station. We could not be more excited to be bringing this to the Southern Sioux Falls area. If you have any questions we would love to get those answered for you. Just hop on our website, or stop by the Spa. Dreessen, who lives in Sioux Falls and works as a Hegg real estate agent, is one of five local families who invested in the business. He and other founders wanted a higher level of car wash in the city."
Winners will be chosen based on a Subscription to their newsletter online, or sharing one of their Facebook posts to their friends and family. Winners will be announced throughout the grand opening events. Those who are interested can sign up for the contest via the company website, or Clean Ride Auto Spa's facebook page. Entry for the contest is during their grand opening.
Drivers who want their car washed inside and out, without having to lift a vacuum — or even a finger — will benefit from a new business opening in southern Sioux Falls.
Full-service car washes will be just one of the offerings at Clean Ride Auto Spa, which is under construction just west of the intersection of 85th Street and Minnesota Avenue.
Release ID: 88946658