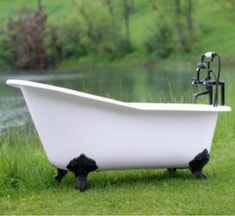 - November 3, 2016 /PressCable/ —
The Tub Connection announces the launch of their new website featuring a range of bathtubs and other bathroom essentials. The firm has been in business since 2000 and specialize in bathroom vanities, different kinds of bathtubs and related products all of which are sold well below retail prices.
For more information about the range of products visit https://www.thetubconnection.com
In today's stress and anxiety replete world, having some time to just relax is a luxury. If that time can be spent in a warm bathtub, it takes the relaxation to a whole new level. Finding a bathtub that is as practical as it is beautiful is almost always a daunting task. Therefore most often people settle for an unimaginative rectangular piece that is too big or too small.
The Tub Connection is firmly committed to providing excellent products at prices that are far less than retail prices. This has pushed them to the pinnacle of the companies in their industry. Their range of products include tubs, bathroom vanities, sinks and related accessories, faucets and related hardware. Under each of these categories, there is a wide range of great products with very different styles and functionalities.
The specialty of The Tub Connection are their clawfoot bathtubs. These are available in a range of foot designs such as Acrylic Slipper, Cast Iron Slipper and Acrylic Clawfoot Slipper. They are available both with and without faucet holes. The location of the faucet holes too vary and some designs have them placed at the head and others at the middle of one of the sides.
The outside surface of the tubs can be customized with the paint color of the customer's choosing. Artistic add-ons such as zebra stripes and finishes such as burnished gold or copper bronze can be painted on the outer surface. The company also offers handmade finishes such as mirrored tiles and crinkled copper. The tubs are designed to be deeper than normal designs, resulting in better heating and added comfort. For more information or to find out about their free shipping policy, visit the website at the link above.
Release ID: 143350