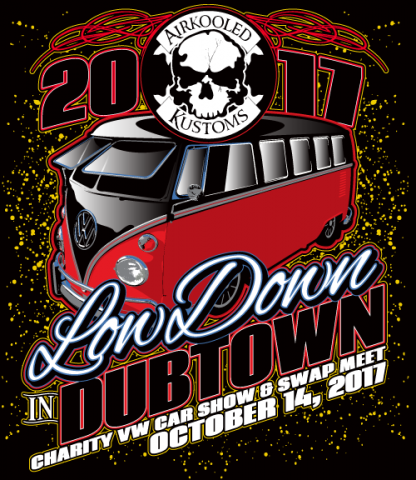 - September 8, 2017 /PressCable/ —
Airkooled Kustoms, an internationally recognized classic Volkswagen restoration and customization shop, announces its eleventh annual car show, Low Down in Dub Town. The event will be held on the shop grounds in Hazel Green, Alabama on Saturday, October 14, 2017 from 10:00 a.m. – 4 p.m.
Gates open at 8:00 a.m. for a day of family-friendly fun. The event is free to the public, featuring an engine blow, car contest, and food vendors. Guests can tour the car restoration shop, meet the Airkooled Kustoms Krew to ask questions about classic Volkswagens, shop for classic car t-shirts, and help support the late and much-loved Roger "00Dub" Moore's minor children.
Guests can purchase tickets for our annual engine blow 50/50 at registration. VW engine expert, Floyd Husband, has been hard at work bringing an unsalvageable engine back to life long enough for this highly-anticipated event. At 2:30 p.m., the engine will roar to life, and a timer will mark the seconds or minutes between ignition and complete and catastrophic engine failure. The 50/50 winner will be the ticket-buyer who guessed the time closest to the official engine failure time. The proceeds of the 50/50 will go to support our late General Manager's family.
"This year, we lost Dub Ninja Master Roger Moore, AKA 00Dub, the shop's general manager. We still feel his presence in the shop – still hiding in plain sight – and in our hearts, and miss him every day. But as much as we miss him, his family misses him even more. He leaves behind some adult children and two teenagers, all who loved him dearly. During this year's car show, we wanted to do something special to help… because we're family, and that's what we do," said Eric "Spook" LeClair, Founder of Airkooled Kustoms. "With this in mind, we will be accepting donations at the show and also contributing the proceeds from the Engine Blow 50/50 to benefit Roger's younger children. Your donations are not tax-deductible this time around, but every penny will be put to good use as the Airkooled Kustoms family helps to finish the job of preparing these talented, intelligent, and kind-hearted young people as they enter adulthood."
There is no entry fee for show cars, but pre-registration on the shop's website is requested. Local classic Volkswagen enthusiasts are encouraged to enter their vehicles for a chance to be awarded a crowd favorite trophy, designed and built by Jim "Snoopy" Walker.
Airkooled Kustoms is located at 458 Guy Wilson Road, (431/231 North to Pauline Drive, then straight onto Guy Wilson Road). For more information about the event, please visit Airkooled Kustoms online at: www.AirkooledKustoms.com or call (256) 828-2123.
About Airkooled Kustoms
Airkooled Kustoms (www.AirkooledKustoms.com) is a world-renowned classic Volkswagen restoration and customization shop located in Hazel Green, Alabama. Founded in 2008 by custom car restoration industry leader, Eric "Spook" LeClair, the shop is known for restoring and customizing vintage Volkswagens.Classic Volkswagen and Porsche Charity Car Show
Release ID: 237219