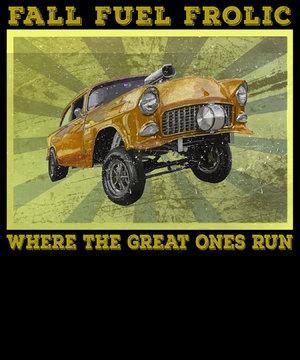 - March 30, 2018 /PressCable/ —
The drag car that wasn't made to look beautiful, but give tough competition – that's how the gassers of the 1950s and 60s are known today. Quarter Mile Addiction has launched a new premium men's T-shirt to pay homage to this iconic drag race car, featuring the slogan 'Fall Fuel Frolic, Where The Great Ones Run'.
The hot rod Gasser's were a fan favorite, and took part in what are called 'grudge matches' that carried higher prize money. The shows became top favorites due to their entertainment value, and the 'Gasser war years' were thus born in the period 1955-68. The 1955 hot rod featured on the T-shirt had a straight front axle, supercharged nitromethane engine and a high nose for maximum traction. For more information see the link here https://www.quarter-mile-addiction.com/nostalgia-drag-racing-classic-hot-rod-gassers-tee
The aggressively styled hot rods wore a defiant attitude and were stripped for light weight, with a specially built chassis for straight acceleration. The engines could be Hemis, Fords, Chevy small blocks or Oldsmobiles. The interiors were kept minimal and there were no rear seats.
The Gasser war years saw competitions that were 'heads up', and were classified based on the size of the engines and the weight of the car. The fast class races used a straight axle front suspension, giving the cars their fearsome and now famous stance. Some of the popular hot rod Gasser's were the 1933 Willys Model 77 Coupe, 1948 Anglia, 1951 Henry J, 1955 Chevy and the 1957 Corvette.
All T-shirts at Quarter Mile Addiction are available in various sizes along with a special coffee mug featuring the same logo and slogan. Deliveries can take up to 5-10 business days, with a rush 3-day service available for anyone hanging out to get their hands on the product. All merchandise is proudly printed in the United States.
Quarter Mile Addiction is dedicated to keeping nostalgia drag racing alive through their line of hot rod and muscle car t shirts. For further info about the drag racing t shirt brand see the link here http://quartermileaddiction.com
Release ID: 322846