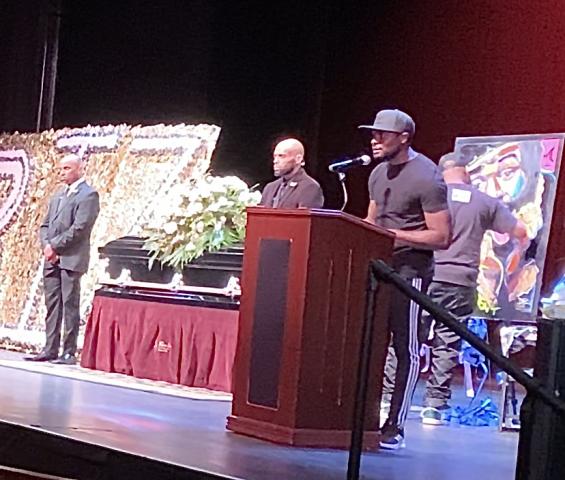 - August 4, 2021 /PressCable/ —
On August 2, 2021 at the Patchogue Theatre, hundreds of people gathered for The Final Show in celebration of Biz Markie. Hip Hop pioneers travelled near and far to pay their respects and share their memories of the music legend. Some of the guests included LL Cool J, Fat Joe, Busta Rhymes, Ice T, The Juice Crew, and DJ Cool V with speakers Rev. Al Sharpton, DJ Cool V, Roxanne Shante, and Clarence KD McNair to name a few.
"Biz Markie represented hope" speaker McNair states. "He stayed in his rawness and used his authentic creativity to inspire the amazing legacy he left behind."
McNair reflects on the impact Biz Markie had in his life, and how the talent of beatboxing emerged in the community through his influence. In a late interview on Spot TV in the 90s, Mcnair creates a beat using his voice for his group members to sing along to. Inspired by Biz Markie, he expresses how honored he was to deliver a message of hope by reading John 3:16 after the Eulogy presented by Rev. Al Sharpton.
"This scripture talks about God's love, which is a perfect way to remember Biz," McNair continues. "It didn't matter your background. Biz believed he was from everywhere and showed love to everyone and walked in God's love."
Marcel Theo Hall, known professionally as Biz Markie, was an American rapper, DJ, and record producer. Markie was best known for his 1989 single "Just a Friend", which became a top 40 hit in several countries. In 2008, "Just a Friend" made No. 100 on VH1's list of the 100 greatest hip hop songs of all time. Markie was sometimes referred to as the "Clown Prince of Hip Hop". In this time of uncertainty, McNair hopes that Markie's life will inspire the younger generation to do their research and get to know Biz more.
Release ID: 89040102