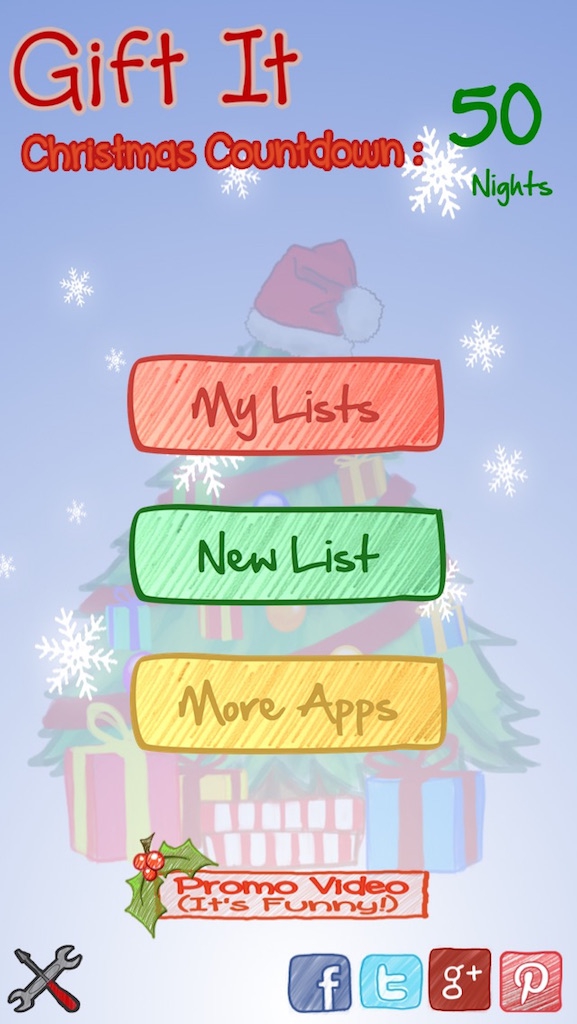 - November 12, 2015 /PressCable/ —
Philadelphia based Switchback Media LLC has released Gift It – My Christmas Shopping List & Countdown App 2.3, an update to its popular free gifting app for iOS. The apps functionality remains the same as always, but for this holiday season they've given the app a new look, with a redesigned user interface and icon. Now entering into its fourth season, Gift It keeps the same standard of quality and simplicity but with a new look. Unlike many of the competing Christmas list apps in the app store, Gift It keeps things simple and straightforward, giving users all of the necessary features in a holiday gift app but without all the unnecessary bells and whistles that tend make things cluttered.
"If you look at most of the Christmas shopping list apps available right now, many of the designs are dull and matter-of-fact, says CEO Chris Allan." "They do a decent job of keeping track of lists, but they don't offer their users that full holiday experience. Our goal with Gift It is to give users that feeling of jotting down a list on paper, but with all the benefits of keeping it on their iPhone or iPad."
With the latest release of Gift It, Switchback has cleaned up the user interface a bit. The old look included a white crinkly paper background that made the app look cute but also made the text difficult to see at times. The new look features a soft winter background scene, with a Christmas tree sparkling under the blanket of a soft evening snowfall. Though the look is new, Gift It maintains that natural list making feel, with a font that looks like someone's real handwriting.
In addition to the new look and feel to the app, the functionality and feature list allows users to manage multiple lists, set their budget, cross out purchased items with the swipe of a finger, re-prioritize lists and keep track of their total spend with minimal effort. Also included is a Christmas countdown so the user always knows how many shopping days remain until Christmas. All of these features are free upon download, and of course, if they prefer, Gift It still offers an upgrade package that includes no ads and a password protect feature at a nominal price, where the user can set a four-digit password so that others can't sneak a peek at their lists.
COO Mark Imperial states, "While Gift It has improved its look this year, our aim is still to offer people the opportunity to easily manage their Christmas shopping lists this holiday season. There's enough stress during the holidays. Hopefully we can help reduce it just a bit this year."
For more information and to download the free Christmas shopping list app "Gift It" from the app store go to Christmas Shopping List App Gift It 2015
Here is a review of Gift It by app expert by Francie Black, featured on ABC News: Christmas Shopping List App Gift It Review
Release ID: 96553