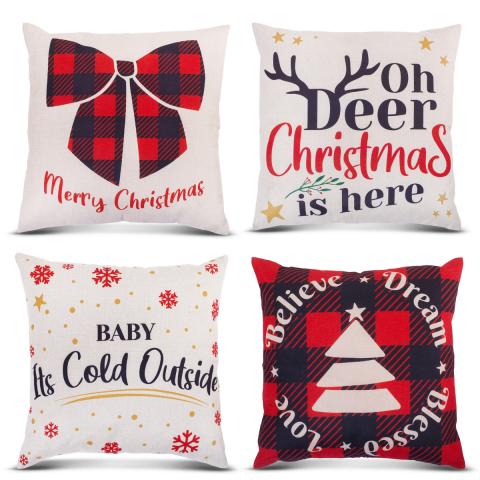 - January 26, 2021 /PressCable/ —
A new range of Christmas pillow covers has been launched on Amazon by Season 4 Sparkles. The 18×18 set of four is made from high-quality burlap material, which allows for a smoother-looking finish.
For more information please visit the website here: https://www.amazon.com/Christmas-Pillow-Covers-18×18-Pillows/dp/B08KS92SRY?maas=maas_adg_E862386167C7D08537D3968A4EFEE7A8_afap_abs&ref_=aa_maas
The new set of cushions from Season 4 Sparkles offers customers a vibrant set of Christmas-themed designs to add an eye-catching element to any living room display.
For customers looking to add more pillows to their set, the four-piece collection give a high quality and professional look. The new range allows customers to create a festive feel in the home, inspiring compliments from friends and family.
One of the benefits of the new launch is that the cushions are easy to use and store. The covers are designed with simplicity of functionality in mind and fit onto pillows with ease. This means that customers have no bulk to deal with.
Because they are easier to manage, customers can simply fold them away when the festive season is over. This allows them to be kept more easily for another season.
Whether customers are decorating a farmhouse or wanting a plaid theme at home, the Christmas pillow covers are versatile enough for any decor style. They can coordinate with any room, and highlight happy greetings and images that welcome guests.
Customers seeking to add a seasonal touch to their home will find that the newly launched pillowcases are designed to capture attention.
One features a bow design with the "Merry Christmas" slogan in red, while a second cover features the "Oh Deer, Christmas is here" message alongside golden stars.
The two other covers include "Baby, it's cold outside" themes and a "Belief, Dream, Blessed, Love" message surrounding a white Christmas tree.
The Amazon page listing states: "Designed to make uncomfortable furniture be comfortable, it's the best Christmas throw pillow cover to cozy up near your fireplace without being itchy or scratchy. Warm yourself during the cold season on your couch while enjoying the soft pillowcases."
Those wishing to find out more can visit the website on the link provided above.
Release ID: 88994984