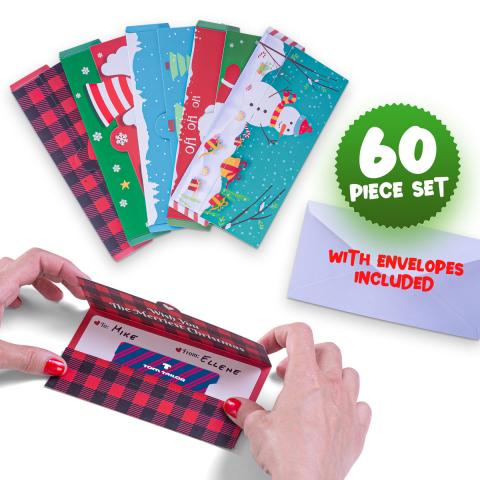 - November 12, 2020 /NewsNetwork/ —
A newly opened online Christmas store has launched a festive range of money card holders suitable for cash, cheques, and vouchers. The Season 4 Sparkles team at WG Wholesale explain the money card holders offer an elegant option for gifting money or gift cards to friends, family, and employees over the holidays.
Find out more at https://www.amazon.com/Pieces-Christmas-Money-Envelopes-Included/dp/B08KSF2FXK
The newly launched range includes an assorted mix of festive and holiday designs. Every customer that places an order will receive 30 gift card money holders and 30 envelopes. Giving a gift or money in these attractive card holders and cash holder will be loved by anyone receiving the gift.
High-quality and unique designs are included as the team say it is important everyone who receives one of the cards feels appreciated. The team explain that many people are focusing on Christmas as something to look forward to after a year that has brought about many unexpected and difficult challenges.
They add that their new online Christmas shop aims to help people create the festive cheer they want at home. Each card is fully customizable and can be personalized to ensure the recipient knows it is for them, whether the gift giver wants to share a heartfelt message or a 'thank you' for their employee's hard work.
The company also has an affordable range of cute woodland animal scenes has broad appeal explain the team. They say they can be used to present children with gift money however the tasteful design is also ideal for clients, colleagues, neighbors, business customers, and friends.
Other items available from the online holiday shop include a Felt Christmas Tree for Toddlers to customize with 33 ornaments included. It is designed to encourage young children to get involved with Christmas and the holidays by decorating their own felt tree as often as they like.
A company representative said: "At WG Wholesale we strive to bring you the best deals from all over the world. We bring to you Christmas and holiday gift giving accessories for the holidays, birthdays, and other special occasions. If you are gifting money this year, we have an elegant way for you to give cash, bonuses, or tips to anyone."
To find out more, interested parties are invited to visit the link provided. Alternatively, the money card holders can be purchased directly from Amazon at https://www.amazon.com/Animal-Christmas-Cards-Assortment-Loved/dp/B08KTSB761.
Release ID: 88985320