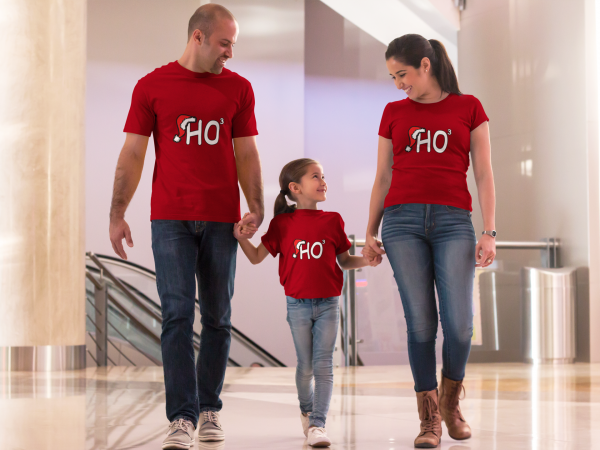 - November 29, 2016 /PressCable/ —
Customers looking for the latest in humorous Christmas tee-shirts will soon be able to purchase the limited offer, "Ho Cubed" Christmas tee by On Target Publishing. Today Dan Eitreim, owner/designer at On Target Publishing is releasing details of the "Ho Cubed" Christmas tee's development.
The "Ho Cubed" Christmas tee was designed to appeal specifically to Christmas lovers with a sense of humor! The festive colors and innovative design will make this an often worn holiday favorite. These tee-shirts and hoodies are a low cost, effective way to spread Christmas spirit – with a bit of humor. This is great for the consumer because with the hustle, bustle and stresses of Christmas, the ability to make people laugh is a great way to bring back the fun of the holidays. .
The "Ho Cubed" design is now available as a tee-shirt, hoodie and as a coffee cup. Hoodies are being made available since hoodies are warm enough to be worn out-of-doors. Customers who order "Ho Cubed" Christmas hoodies will enjoy this option because they can now spread Christmas joy wherever they go.
The "Ho Cubed" tee-shirt and hoodies are available in sizes from small all the way to 5X! On Target Publishing made sure to make all these sizes available since customers come in all various sizes. Now, no one will be left out of the Christmas celebrations – no matter what their size..
When asked about the "Ho Cubed" Christmas tee, Dan Eitreim said:
"This is a sure winner that will bring joy and laughter to everyone who sees it. We all need as much levity in our lives as we can get!"
This is the first product released this year as part of the holiday collection and there are several more on the drawing board. Dan Eitreim is particularly excited about this release because – since it is a limited release offer – it will truly make the wearer stand out from the crowd this Christmas..
To allow sufficient time for printing and delivery, the "Ho Cubed" tees and hoodies are only going to be available for about 12 days! Those interested in learning more about or in purchasing the "Ho Cubed" tee-shirt, hoodie or coffee cup can do so online at: "Ho Cubed"
Release ID: 149859