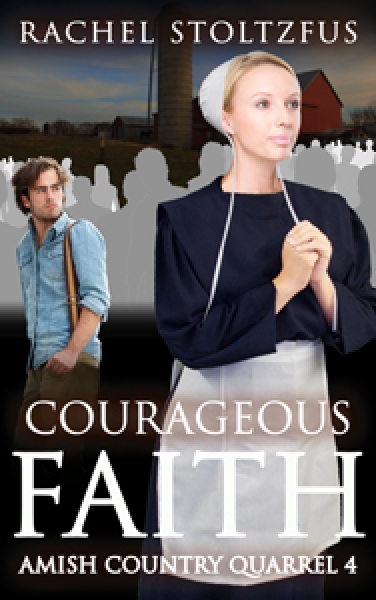 - June 5, 2015 /PressCable/ —
Christian books readers looking for the newest Christian book can purchase Courageous Faith by Rachel Stoltzfus for $0.99 on Kindle (and for free with a Kindle Unlimited subscription) today. It is regularly priced at $2.99. This is Book 4 of the bestselling Lancaster County Amish Quarrel series.
In Courageous Faith, we revisit Englischer, Melinda Abbot. Though excited about her upcoming marriage to her Amish beau Steven Mast, Melinda is also haunted by the memory of her cousin Jim, who she left behind when escaping the cult they both had been manipulated into joining. Recognizing that she will never be able to have a future if she doesn't face her past, Melinda and her new Amish community band together to help Jim break free of the cult.
Readers can learn more about this Christian book here: http://www.globalgrafxpress.com
Christian Author, Rachel Stoltzfus strives in her fiction to present a fair and honest representation of a love that is both romantic and sweet. She hopes that her Christian readers will find this book compelling, romantic, and ultimately inspirational.
Readers have raved about Rachel Stoltzfus's Lancaster County Amish Quarrel series.
About the first book of the series, An Amish Country Quarrel, Amazon reader, J. Stevens says: "…I loved how the story was ultimately about friendship and how you can still be friends even as growing up means that you may have to grow apart. I was really glad to get a window into how the Amish deal with the choice about whether or not to leave the Amish community. Short and Sweet — Loved it!"
About Book 2, Simple Truths, Amazon.com reader, Eleanor Gravitt, raves, This book really shows the strength and courage of all of the main characters: especially Melinda and the Amish community who come together to protect the children. Great read! Couldn't put it down!"
And about the third book in the series, Neighboring Faiths, Amazon.com reader, Deborah Spencer raves, "I really loved how this book got into the difficulties with trying to go from English to Amish. Melinda was a believable character, and the romance between her and Steven was very sweet!"
Courageous Faith is being offered at a special discount price of $0.99 on Kindle through Saturday, June 6th 2015, after which it will revert to its regular price of $2.99. It is also free with a Kindle Unlimited subscription.
Readers can learn more about Courageous Faith here: http://www.globalgrafxpress.com
About Global Grafx Press:
Global Grafx Press was founded in 1997. This Christian book distributor is known for publishing great Christian authors and Amish authors as well as Western Historical fiction. They are committed to helping Christian readers find the best, clean Christian books online and hope that their readers enjoy browsing their Christian Bookstore. Those interested in learning more about Global Grafx Press can do so at http://www.globalgrafxpress.com.
Release ID: 83682