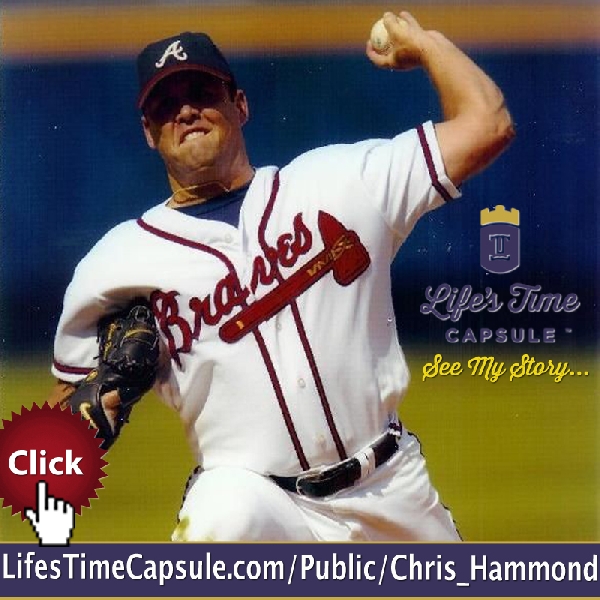 - January 28, 2015 /PressCable/ —
Chris Hammond has amassed an extensive collection of digital videos, photos and memories through a quarter-century in professional baseball, an active family life and a growing charitable foundation. Like numerous individuals, he has worries about preserving his legacy and keeping his memories safe and secure from any number of threats.
His solution is storing them in a digital, online and cloud based service by Life's Time Capsule. Life's Time Capsule recently launched their website and mobile application designed for consumers and organizations to safely secure all their precious memories to share with generations to come.
"The thing I really like about it is how you can start compiling all your pictures and heirlooms and history and have it all in oneplace," Hammond said. "What really caught my attention is you can use it at your fingertips,  you merely give it a title, pull it up and hit send."
For a monthly fee, consumers have the means to digitally store their photos, videos, voice recordings, journal entries and documents all in one place, safe from outside threats and unwanted intrusions.
The user-friendly app of Life's Time Capsule was designed with all level computer users in mind. Digital images, videos, voice recordings, journal entries and documents can be uploaded or downloaded conveniently from a PC or, more instantly, through a Smartphone for families and friends to live-stream and document life's most memorable moments.
Unlike other forms of memory storage such as scrapbooks and photo albums, the images and items stored in Life's Time Capsule are accessible from any location. With the use of personalized URLs, users can select the media they wish to share with any of the major social media platforms while keeping the rest secure and private.
"When I started talking to people about Life's Time Capsule, the first thing I asked is if they had all their family pictures and videos in one place stored safely, and not one person said yes," Hammond said."I have all my memories stored away and if my house burned down, I'd have nothing."
"I was talking with someone who had just been to a funeral where all the kids were saying how much they loved their dad and grand dad; I don't even know who my grand dad is. I don't want that to happen to me. I want my grand kids and theirs — and theirs — to know who I am, and this is a great opportunity for me to leave a legacy for all of them to see it."
"To me, the cost is meaningless compared to what your grand kids and their kids and their kids can experience if you start using this product."
Hammond played fourteen seasons in the majors, winning sixty-six games for seven big-league teams and finishing up with the Cincinnati Reds, the team that drafted him in 1986. Today, he runs a foundation that benefits unprivileged and underserved youth.
Organizations and entertainers have found that Life's Time Capsule provides a way to engage their members and fans. Sportsmen can relive bagging the big one or a favorite outdoor experience. Golfers can detail that once-in-a-lifetime round and tournament directors can create a living history of their events.
"Our lives on this earth mean something and Life's Time Capsule gives one the ability to capture, preserve and pass along their life's stories for friends and family to enjoy for centuries into the future," Life's Time Capsule Founder and President, Frank Brady, said. "Life's Time Capsule services provide a means of digital immortality to tell your life's story to generations of people you may never meet."
"We have a robust network in place, which gives our users a simple and secure platform to build and share their legacy with friends and loved ones or to share with the whole world. … We are excited to bring this product to market because it fills a need of life preservation in a mortal world," says Frank Brady.
To see Chris Hammond's public capsule please: Click Here
About Life's Time Capsule
Life's Time Capsule is a unique services website offered to subscribers as a solution to preserve family legacies. Founded in 2012, Life's Time Capsule is headquartered in Orlando, Fla., with dedicated supportand service locations throughout the USA. For more information, visit:  http://www.lifestimecapsule.com
Release ID: 73149