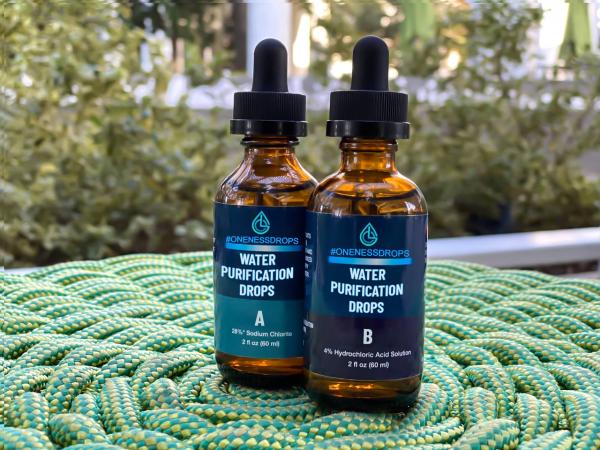 - April 13, 2021 /PressCable/ —
Water purification company, Oneness Labs, has launched its new product range for situations where clean drinking water cannot be guaranteed.
More information is available at https://onenesslabs.com.
The chlorine dioxide purification kits were created to provide clean water to anyone who requires it – including communities without access to clean water sources, campers, hikers, and any other outdoor emergencies.
Chlorine dioxide is added to drinking water across the world as it removes harmful bacteria, parasites, algae, and other micro-organisms, as well as unpleasant tastes and odors. The Center for Disease Control, Environmental Protection Agency and the World Health Organization recognise it as a safe method of purifying drinking water. In creating these products, Oneness Labs have made them available for all those in need of cleaner drinking water.
The kits available at Oneness Labs consist of two bottles, one containing a sodium chlorite solution, the other a solution of either hydrochloric or citric acid. The instructions explain the quantities needed of each, dependant on the quantity of water. They are available in 2oz or 4oz kits, with convenient dropper bottles so solutions are easy to mix when treating small amounts of water.
When mixed with water, the product releases a highly active form of oxygen which acts as a strong oxidant and antimicrobial agent. This will neutralize any unpleasant tastes and odors without discoloring the water, and remove any harmful pathogens.
Oneness Labs also carry out humanitarian work, teaming up with non-profit groups in the Peruvian Amazon to purify the water and improve the health of local communities. Some of the proceeds received from the sale of the kits go towards these clean water projects.
The website also includes a blog, regularly updated with articles about the uses and safety of chlorine dioxide for water purification, to ensure that customers are fully informed about the products they are buying.
The founders of Oneness Labs have many years of experience working with water purifying substances, having discovered the uses of chlorine dioxide while doing humanitarian work in South America in 2008.
A spokesperson for the company said: "it is our mission to assist in raising the health and well-being of individuals in the Amazon Region".
Interested readers can find out more about the product and the projects Oneness Labs are involved in by visiting the above-mentioned website.
Release ID: 89005150