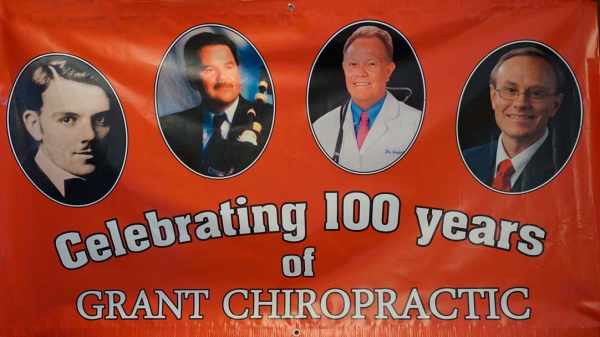 - October 24, 2017 /PressCable/ —
The Accident and Injury Clinic of Dr. James Grant is celebrating their 100th Anniversary this month on October 21, 2017. This is a huge milestone for the Salt Lake City based Chiropractic Clinic, which has provided chiropractic care for patients suffering from chronic pain since 1917.
The Accident and Injury Clinic was founded in 1917 when founder Dr. James Mark Grant saw an opportunity to serve the community and help people experience a pain free life without the need of medication.
One of the earliest challenges that Dr. James Grant encountered was that he suffered his own chronic pain in his neck and face. This was one of the reason he became a chiropractor in hope to find a way to relieve his pain and was a motivating factor for him to help others.
While every business faces challenges, the Accident and Injury Clinic has been fortunate over the years to enjoy sustained business success. They have helped thousand patients over the past 100 years and are looking forward to remaining as an intracule part of the Salt Lake community for the next 100 years.
Dr. James Grant, the grandson of Dr. James Mark Grant and current owner of the Accident and Injury Clinic talked about his personal experience at the clinic. "One of the high points of the Accident and Injury Clinic's history is all the relationships we have built with the community over the years. The Grant family has been able to help so many people through this journey and we don't plan on stopping anytime soon."
Dr. Grant goes on to say "We're delighted to be celebrating our 100 Year Anniversary. I believe the secret to getting this far in business today is putting the patients first…without them, we don't have a business, so we do our best to give them the best experience possible".
The Accident and Injury Clinic specializes in helping people who have been injured in an accident and helping to prevent permanent damage to the spine and neck. Dr. Grant has also been trying to build awareness to one of the biggest dangers in the medical community right now, the Opiod addition epidemic. One of the core objectives of the clinic is to spread the awareness to the dangers of opioids and other prescription medication and to educate more people ways to relieve pain using natural remedies.
The Accident and Injury Clinic would also like to thank friends, customers and all its partners for their support and kind comments during this happy occasion.
More information on the business can be found at http://www.saltlakeinjurychiro.com/
Release ID: 254006