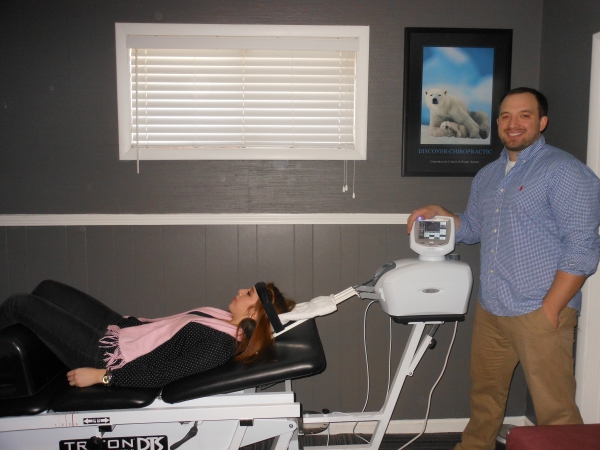 - March 29, 2017 /PressCable/ —
March 23 Memphis TN Chiropractic Memphis announces new service packages to include Spinal Decompression Therapy sessions with spinal manipulation sessions as a blended approach to fast back pain, siatica pain and neck pain relief with a very high rate of success. As a special introductory offer, for a limited time Chiripractic Memphis offices are offering a very special price consideration as their mission is to educate those with extreme pain issues that this process is a viable alternative to evasive surgery options. . This announcement of new service packages comes as a result of so many patients experiencing pain relief and ease of mobility faster by combining these two spinal correction techniques.
What is Spinal Decompression Therapy?
Spinal decompression therapy is a revolutionary, pain free non-surgical alternative assisting with relief from chronic debilitating lower back pain, neck pain, disc herniation, sciatica nerve pain and more. The therapy involves gently stretching the entire spinal column, using a computer controlled traction which gently pulls on a harness which is strategically wrapped around the pelvic area or around the upper torso. Traction or decompression is applied very gently and slowly. The method works by restoring proper function in injured disc. and assisting in proper spinal alignment. Manual spinal manipulation is also incorporated in the treatment session. Thiscombined procedure has reported positive results in over 86% of patients.
Dr. Dave kellenberger of the Chiropractic Memphis Collierville office states "What's great about the Spinal Decompression Therapy is we are seeing excellent results with patients who were facing surgery and tried us as their last option before taking that route and they have progressed to the point of not needing surgery while experiencing a pain free lifestyle in just a matter of a few sessions. We've treated patients who were in auto accidents with whiplash and back injuries that were not being helped by other medical methods and have gotten well with our methods. We've seen patients come in with back braces and eventually not need them at all. Many have been able to stop taking pain medication which is fantastic for both their health and mindset. Although Spinal Decompression is not new to chiropractic medical community, It's not always offered and often overlooked as a very viable solution to many patients with serious back and neck issues. By offering special priced packages and educating people about this alternative to surgery it is our hope to save as many as we can from evasive surgery which sometimes creates more problems than surgery solves."
Spinal Decompression Therapy is a spinal adjustment treatment involving intermittent traction which can help relieve, back pain, neck pain, arm and leg pain. Developed in the 1990's, it has grown tremendously in popularity as more and more patients realize the benefits of pain relief and the importance of surgery avoidance. It has proven to be highly effective (over 80%), low cost (less than 5% the cost of surgery), FDA cleared, and very safe with an extremely low risk profile. According to a recent study in the Journal of the American Medical Association, surgery is no more effective than non-invasive treatments, including chiropractic care, for patients with lumbar disc herniation causing sciatica and other back pain issues.
Contact Chiropractic Memphis Offices for an evaluation to discover if Spinal Decompression Therapy is right for you and your loved ones.
Release ID: 180257