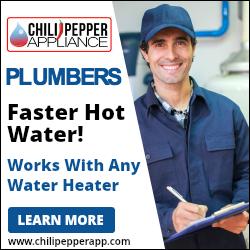 - January 27, 2019 /PressCable/ —
Instant Hot Water with Chilipepper Appliance, Orange County, CA – Plumbers all over Southern California are thrilled to be able to offer faster hot water to their customers. Created and sold by Chilipepper Appliance, their On-Demand Recirculation Pump for faster hot water works with any heater, even tankless – saving time, water, energy and best of all – money! Additionally, this exciting and innovative water pump is easy to install and powerfully built. One small pump works for an entire house. A simple touch of a button activates the Chilipepper and once the on-board temperature sensor detects sufficiently hot water it turns itself off. Customers get hot water with practically no wait and zero waste.
Become a vender and make up to $250.00 per install click here to view offer
The Chilipepper eliminates the need to run the faucet for several minutes to get hot water. Upon activation, the high-power pump circulates the water from the water heater – whether tankless, tank-type or other – to the faucet. There's no need to even open the faucet but if you need to use the water while the pump is running, no problem! The sink and faucet still work the same as before. Best of all, there's no fuss! When the hot water arrives, the Chilipepper turns itself off, leaving you free to just enjoy your hot water.
The Chlipepper recirculates the cool water from the hot water line back to the water heater to be reheated instead of running it down the drain. Eliminating that wasted water saves thousands of gallons of water every year. A typical family of 4 can save over 12,000 gallons of water per year! Not running that water down the drain reduces the amount of sewage that needs to be treated as well.
The Chilipepper is a Green product because, in addition to saving water, it uses less than $2 in electricity per year to operate. Conserve water, energy, and reduce your carbon footprint while saving time and money!
For more information, please visit: https://chilipeppersales.com
Release ID: 476194