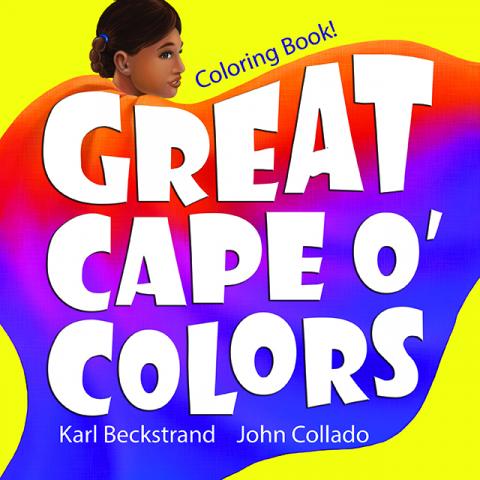 - June 28, 2018 /PressCable/ —
Premio Publishing & Gozo Books, a publishing company based in Midvale, Utah, launched Great Cape o' Colors – Capa de colores, an English-Spanish bilingual educational book designed to enhance the learning of vocabulary through engaging, modern activities. Featuring vivid illustrations and easy-to-follow, child-appropriate texts in both English and Spanish, the resource is ideal for parents and educators interested in teaching vocabulary in a fun and engaging way.
More information can be found at https://gozobooks.com/great-cape-o-colors.php
Learning vocabulary is one of the most important aspects of language learning, with context learning being an ideal way to acquire both the necessary words and the skills to use them appropriately.
Great Cape o' Colors aims to provide young learners with all the necessary tools to learn Spanish and English vocabulary in an efficient and entertaining way.
The new book features a complete text with vivid matching illustration featuring superheroes and other characters, making it a versatile, practical language learning resource. Parents and teachers can adapt the activities according to the needs and preferences of the young learners, using pictures, text and exercises to reach various learning goals.
Great Cape o' Colors comes with a complete pronunciation guide to help educators teach correct Spanish and English pronunciation. The main vocabulary focus is on colors, careers, cultures and costumes, with other essential areas also included. To promote diversity and multiculturalism, the protagonists are characters of color (a black girl and a Hispanic boy).
The bilingual book was written by Karl Beckstrand, an award-winning author of more than 20 bestselling multicultural titles and over 50 e-books.
The book is part of the Careers for Kids series, which includes "Ma MacDonald Flees the Farm" (about a woman-owned business), "Bright Star Night Star" (for aspiring astronomers) and "The Bridge of the Golden Wood: A Parable on How to Earn a Living" — selected by the State of Vermont for primary school financial literacy curriculum. Each book links to a site with job and business ideas for graduates plus money management tips. The website can be found at https://ChildrenEarn.com .
The bilingual ebook is free on Kindle Unlimited, at https://www.amazon.com/Great-Cape-Colors-English-Spanish-pronunciation-ebook/dp/B07BHG34WJ . Great Cape o' Colors, as well as the other titles in the Careers for Kids series, is available via Premio Publishing & Gozo Books, Amazon, Baker & Taylor, Barnes & Noble/Nook, Brodart, Follett, Ingram and Walmart.com.
With the recent launch, Premio Publishing & Gozo Books continues to expand its range of modern educational resources and multicultural children's books.
A parent said: "This is a well written and illustrated book that will help children to learn colors in both English and Spanish. The fun methods used allow for parents or teachers to interact with kids on a fun level and explore the world of colors and the world of languages. The book teaches the similarities of Spanish and English and uses bright fun illustrations to help make that learning fun. I recommend this as a good story tool for parents."
Interested parties can find more information by visiting the above-mentioned websites.
Release ID: 367947