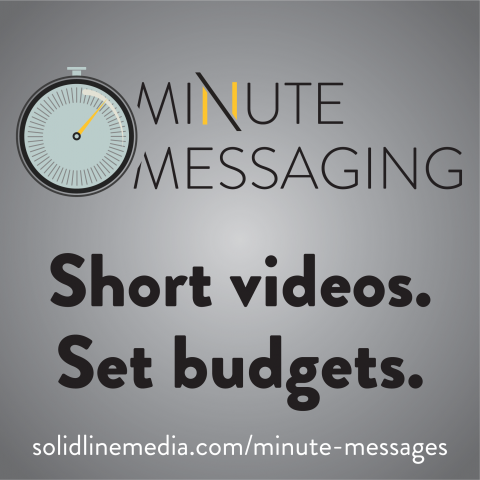 - June 3, 2020 /PressCable/ —
SolidLine Media, a high-end corporate video production company, has launched a new product called Minute Messages. Minute Messages are designed to be a seamless and affordable video marketing solution for companies and organizations seeking quick messages to employees or customers.
More information can be found at: https://solidlinemedia.com/minute-messages
With the newly launched service, clients can benefit from a range of powerful features. These include narration, motion graphics, pre-existing or stock footage, and premium music for a professional look and feel.
Each quick 1-minute video is designed to be an ideal solution for businesses looking to create high-quality video production while on a tighter budget.
SolidLine Media's Minute Messages are designed to the highest quality. The expert team of writers will also write full scripts for clients where needed to streamline the production process.
The new service is targeted at new and experienced business owners alike. Companies looking to create video content will find it a cost-effective option and businesses creating regular content will benefit from the streamlined framework.
With affordable one-minute content pieces, businesses can showcase a new product, create positive news stories, and connect with consumers in new ways. Minute Message video packages start at $1,000 and can be turned around in less than 48 hours. This represents an ideal solution for clients seeking rapid content distribution or quick deployment of marketing content.
SolidLine Media was established in 2001 and since then has established itself as a leader in the corporate video production field. The award-winning team has created thousands of video productions and corporate videos for some of the largest companies in the world.
Utilizing video production in advertising campaigns and marketing programs is a highly effective way of improving conversion rates. In addition to this, Google's ranking algorithms place added emphasis on video content.
The newly launched SolidLine Media Minute Messages video program helps clients to build trust and credibility, encourage social shares, and drive more sales.
SolidLine Media Executive Producer Greg Vass states: "SolidLine Media is focused on creating the best and most innovative video production solutions for our clients, especially in current times. This Minute Messages product is just one more example of how SolidLine is continuously providing our clients with the video production assets they need to be successful."
Full details of the new service can be found on the URL above.
Release ID: 88960171