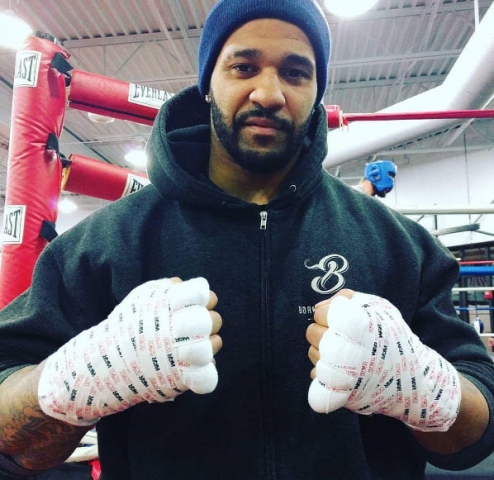 - February 2, 2017 /PressCable/ —
Gold Coast Orthopedic-Spine & Hand Surgery and The Verge Entertainment's combat sports star, Lorenzo "Juggernaut" Hood, have announced a strategic partnership as the Juggernaut moves forward in to the professional boxing world.
Full details on Dr Robert Fink's sports injury treatment can be viewed here: http://goldcoastorthopaedic.com/sports-injury-doctor
The partnership will encompass Dr Robert Fink, a local Chicago orthopedic spine surgeon treating & maintaining one of Chicago's top professional athletes. With the goal of keeping "Juggernaut", a multi sport professional athlete, in peak performance shape to ensure the best physical performance thoughout his new career endeavors.
Fans can expect "Juggernaut Hood", as he is also called, to become one of the most exciting knockout artists in boxing. Just as he has done in the world of mixed martial arts, retiring from MMA with 13 first round knockouts. Never before has major boxing news and media outlets, covered an athlete's pro debut as they have been for the highly publicized professional boxing debut of Lorenzo Hood. Sponsors can view more on Lorenzo or learn more about sponsorship opportunities by visiting his site at https://zohood.com/sponsorship/
As directly quoted from #NextGenChamp, a combat sport media publication, "Saturday, February 4th at the Hammond Armory in Hammond, IN, Hood makes his next sports career move when he enters the 4 Champs Promotions boxing ring in a 4-Round Heavyweight bout in his quest for world dominance".
As part of a long-term strategy, the two companies have an ultimate goal of Lorenzo Hood becoming the heavyweight boxing champion of the world. When asked about the new joint venture, a representative from TVE sports management company said, "A healthy Juggernaut Hood, is a dangerous opponent for any current professional boxer out there".
Orthopedic surgeon Dr Robert Fink was very excited, saying "Providing orthopedic care for Lorenzo is truly an honor. We are one of Chicago's leading sports injury practices and adding him is truly a testament to the strides we are making here with athletes and sports injury".
Current and future Gold Coast Orthopedic Spine and Hand Surgery customers are invited to learn more about the joint venture by visiting the website at http://goldcoastorthopaedic.com/
About Gold Coast Orthopedic-Spine and Hand Surgery and multi sport, professional athlete Lorenzo Hood
Gold Coast Orthopedic-Spine and Hand Surgery was founded in 2008 and serves the Sports Injury & Orthopedic Care industry. multi sport, professional athlete Lorenzo Hood was started his professional fighting career also in 2008 and will finish his combat sports career in the professional boxing world.
Release ID: 166338