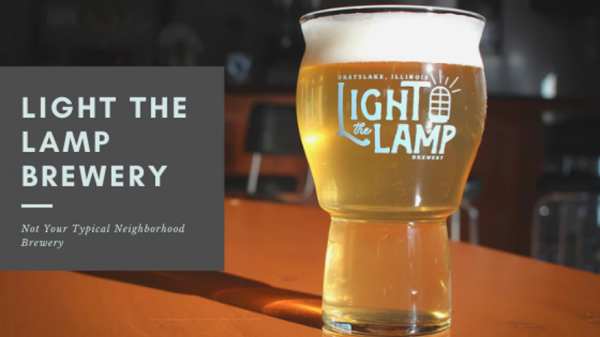 - February 27, 2020 /PressCable/ —
With a passion for hockey and beer, three local hockey dads took a chance on starting a brewery in their Chicago neighborhood. When Jeff Sheppard and Dave Cavanaugh learned their sons' hockey coach, Bill Hermes, had begun brewing his own beer out of his garage, they had to try it. After tasting the beer, they decided it was good enough to sell, and Light the Lamp Brewery was born.
Named after the hockey term for scoring a goal, Light the Lamp Brewery originally opened up a small brewery in their neighborhood in 2012, but realized after six years at that location, they needed more space. When the historic Cupola Automobile building right up the street became available, they knew they had to buy it for their expanding business and turned to Chicago area Centrust Bank for help. Due to Centrust's SBA programs, Light the Lamp Brewery was able to obtain the necessary financing to move to a larger facility and make the necessary improvements and purchase the equipment needed to expand their booming brewery with ease.
About Centrust Bank SBA Programs
Centrust Bank has always focused on helping small to mid-sized businesses grow profitably and safely by ensuring that each client receives the specific financial help the need to be successful. Centrust Bank understands entrepreneurship because, like many of their clients, they are also entrepreneurs. Their experienced commercial banking professionals are dedicated to helping businesses, big and small, grow to their maximum potential.
"Centrust Bank has become a premier SBA lender and one of the largest SBA specialists in Illinois," said Centrust Bank CEO, Jim McMahon.
Centrust Bank was able to help Light the Lamp Brewery become approved for their primary SBA program allowing them to not only purchase the building but get new equipment for brewing their beer and creating a full-service kitchen. Thanks to the financial help from Centrust, Light the Lamp has been able to expand its brewery and continue to brew amazing beer, create unique dishes, and serve as a thriving business within their community.
About Light The Lamp Brewery
When hockey dad Bill Hermes no longer needed to drive his son to hockey practice, he found himself with some extra time on his hands and decided to give homemade brewing beer a try. When fellow hockey dads, Jeff Sheppard and Dave Cavanaugh, learned of Bill's amazing homemade brews, they decided to go into business and Light the Lamp Brewery was born. After opening up their neighborhood brewery in 2012, the team has since said goodbye to the original location and opened up their new brewery and restaurant in 2018 in the historic Cupola Building. Light the Lamp Brewery has established itself as the typical neighborhood brewery, serving not so typical brews and food.
To learn more about Light the Lamp Brewery, or see what's on tap, visit their website: lightthelampbrewery.com
About Centrust Bank
Founded in 2006, Centrust Bank has grown to become a leading Chicago area community bank that focuses on helping small to mid-sized businesses grow safely and profitably. Centrust has established itself as a leader in, and excels at offering SBA programs for small businesses.
To learn more, or to contact Centrust Bank, please visit their website: centrustbank.com
Centrust Bank is an Equal Housing Lender. Member FDIC.
Release ID: 88948090