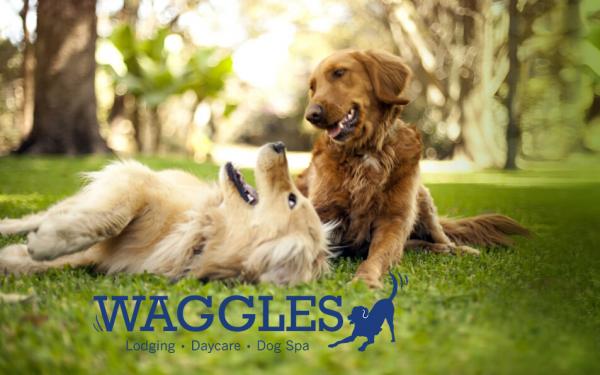 - November 12, 2020 /PressCable/ —
WHEELING, IL – When attorney Ross Neihaus found himself looking for a change in careers, he was presented with the opportunity to acquire For the Love of Dogs (now Waggles) luxury dog daycare, in May of 2019. Neihaus came to Centrust Bank for SBA 7 financing when he initially purchased the business. Now, with the help of Centrust Bank, Waggles Pet Resort is officially open for business. Though competition is fierce, owner Ross Neihaus firmly believes families in Chicago's northern and northwestern suburbs will want their canine companions to have "the best." Waggles is located at 419 Harvester Court in Wheeling.
While Neihaus acknowledges opening in the midst of the coronavirus pandemic certainly seems risky, he is certain people will always want the best for their four-legged family members, and the events of this year have sparked sustained growth in dog ownership and pet-related spending.
"While there's a lot of competition, we believe the next level of care and services we offer dogs and their families will appeal to many," stated Waggles Founder Ross Neihaus. "Folks from many surrounding suburbs have shown great interest. We're really excited about the potential."
Key Services
Waggles offers premium dog suites for lodging, complete with raised beds, pillow-toppers, and tuck-in service. Its daycare program offers multiple play areas to accommodate dogs with different play styles. And after all the fun, dogs can enjoy Waggles' spa services – offering bath and brushes, nail trims, ear cleanings, and even blueberry facials.
Chauffeur Service
In order to serve as many people as possible, Neihaus offers an affordable, pick-up, drop-off chauffeur service. Specially equipped and well-ventilated Mercedes Metris vans with plenty of windows will transport dogs in comfort to and from their homes spanning a 15-mile radius, reaching: Glenview, Northbrook, Winnetka, Deerfield, Highland Park, Arlington Heights, Buffalo Grove, Lake Forest, Libertyville and Lake Bluff.
Key Amenities
The freshly remodeled 8,000-square-foot facility has an additional 2,000 square feet of outside, fenced-in, play-yard space. Waggles features the following high-end offerings, setting it apart from local competitors:
* A new, $200,000 HVAC system ensuring fresh, non-recycled air – minimizing airborne pathogens to keep the building dry and free of mold, mildew and dog smells.
* Indoor play yards that are able to be rearranged with mobile dividers. The yards are also covered in durable rubber, that is comfortable on paws, making it easier to clean and sterilize.
* Guests that are lodging at Waggles will enjoy a raised bed with a pillow topper and receive tuck-in service before bed, including cuddle time, a gourmet treat, and a five-point daily wellness check (short examination of eyes, ears, torso, paws, and tail).
Top of the Line Staff
Neihaus is adamant about employing staff dedicated to the health and safety of all pets, so he has assembled a team of employees with strong backgrounds in animal care. Personnel have extensive experience in the pet care industry, including a manager who has been working in and managing dog daycares for 15 years and spent four years assisting a veterinarian.
Other staff members have previous experience in dog daycares and have certifications in pet CPR, dog safety and training. Staff members have also undergone a customized training program that includes industry-leading online courses and on-site training with dogs.
About Waggles Pet Resort:
The daycare portion of Waggles is open seven days a week, from 7 a.m. to 7 p.m. weekdays, from 9 a.m. to 5 p.m. on Saturday and Sunday. Overnight boarding will begin in mid-November, and Waggles is now accepting reservations for the Thanksgiving holiday. Waggles' chauffeur service area includes Glenview, Northbrook, Winnetka, Deerfield, Highland Park, Arlington Heights, Buffalo Grove, Lake Forest, Libertyville and Lake Bluff. For more information, check out the Waggles website at: https://www.wagglespetresort.com
About Centrust Bank
Founded in 2006, Centrust Bank has grown to become a leading Chicago area community bank that focuses on helping small to mid-sized businesses grow safely and profitably. Centrust has established itself as a leader in, and excels at, offering SBA programs for small businesses.
To learn more, or to contact Centrust Bank, please visit their website: centrustbank.com
Release ID: 88985386