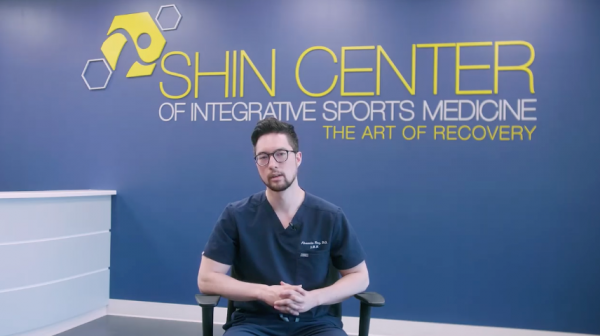 - November 17, 2020 /NewsNetwork/ —
Shin Center has launched its Osteopathic treatment in Cherry Hill, New Jersey. The integrative sports medicine clinic uses acupuncture to treat concussions and various sports related injuries.
More information is available at https://www.shincenter.com.
Dr. King's journey into the field of osteopathic manipulation and other healing techniques such as cupping, acupuncture, injections, and herbalism began with his family roots. His father traces his descent from English, Scottish and German families who came to the United States in the 18th and 19th centuries. After college he received a Fulbright Scholarship to study in Cologne, Germany. Following graduate studies in medieval architecture at Columbia University he was awarded a two-year Woodrow Wilson Fellowship to study in Paris, France. Through the years he made many trips to Spain to study flamenco guitar with legendary guitarist Diego del Gastor. Back in the US he changed careers after four years as a professor of art history at Rutgers University and became a specialist in the restoration of antique wicker furniture. Shortly before Dr. King was born, he attended the Philadelphia Restaurant School and became an Executive Chef, later teaching as a certified Chef Instructor for almost two decades at Stratford University in Northern Virginia. Retired, he now plays flamenco guitar for fun. Dr. King believes many of his artistic and creative tendencies came from his father.
Dr. King shadowed an orthopedic surgeon in his undergraduate years, getting a sense of an operating room behind the scenes. Much later, during clinical rotations in family medicine he had the chance to use the OMT techniques he learned in a hands-on OMM lab on real patients, and saw amazing results. As a student, Dr. King had a following of patients who asked if they could book appointments with him. Dr. King's path to OMM came as a sudden revelation in his third year of medical school, "I realized I could just do OMM for the rest of my life and be perfectly content." After a day at his family medicine rotation site, he didn't feel fatigued from giving OMM treatments, in fact it felt life giving and energizing. His journey started at PCOM with four years of medical school, three years of OMM residency, with a six month medical acupuncture fellowship at the Helms Medical Institute during his second year of residency, as the only resident in the class of approximately forty older attending physicians.
One of the most important things in medicine is to listen closely to patients and believe they know what's going on with their bodies. Dr. King reflected, "Literally just listening to your patient and seriously considering their point of view can be therapeutic for them, especially for complex or unknown diagnoses that have been written-off by five specialists." Dr. King said, "I often ruminate about how 'medicine' and ritual were used for a majority of our evolutionary journey. Modern medicine, which has become the standard, is actually extremely new with respect to our biological timeline, and many things that I use such as manual medicine and acupuncture, have been practiced over thousands of years. I use these techniques in a specific way, while using my modern medical knowledge, to enhance ancient techniques and synergize them with a renewed understanding. My practice harnesses our evolutionary healing potential, with natural techniques, under the guidance of modern medical knowledge and understanding of physiology and anatomy."
The newly launched service practices integrative sports medicine, which is a combination of alternative medicine treatments. These regenerative treatments activate the body's natural healing abilities. It offers athletes a chance to restore their health and return to playing sports.
The Shin Center specializes in scalp acupuncture. This treatment integrates Western anatomical knowledge on brain function with Eastern acupuncture techniques to effectively treat disorders related to the central and peripheral nervous system.
By using acupuncture needles on the scalp, it stimulates specific areas of the brain responsible for various body areas, balance, vision and speech. For someone who has had a concussion, scalp acupuncture treatment can be extremely beneficial.
A concussion may cause a patient to experience light or sound sensitivity, headaches, dizziness, memory loss or problems with speech. They may also suffer from widespread pain and discomfort. With scalp acupuncture, the treatment stimulates areas of the brain responsible for these dysfunctions to promote quicker recovery and restore homeostasis.
In addition to concussions, scalp acupuncture is also used effectively in the rehabilitation and treatment of other neurological conditions such as paralysis, stroke, spinal cord injuries and Parkinson's disease.
The Shin Center's patients receive a discount off of all its body reboot services. One popular body reboot service is cupping therapy which lifts connective tissue, releases, rigid tissue and loosens adhesions. Cupping pulls stagnation, waste, and toxins to the skin level where it can be easily flushed out by the lymphatic and circulatory system.
The Shin Center's body reboot service also includes cryosauna treatment. This treatment delivers both cryotherapy and heat in a single unit for a contrasting effect. The procedure increases maximum circulation and decreases inflammation.
Specialized Expertise:
-Osteopathic Manipulative Medicine (OMM): Manual Medicine techniques to correct muscular imbalances, including adjustments
-Osteopathic Cranial Manipulative Medicine (OCMM): Manual cranial manipulation to address imbalances in the flow of cerebrospinal fluid following concussions/head traumas
-Medical Acupuncture: the use of fine needles to correct energy imbalances within the fascial network
-Vibration/Percussion Therapy: using medical percussion devices to create myofascial release
-Cupping: using suction to create pockets of micro-inflammation, myofascial release, and decompression of the fascial network
-Prolotherapy Injections: utilizing dextrose injections to create localized inflammation, therefore a healing response and tissue regeneration within injured tissue
-Platelet Rich Plasma (PRP) Injections: utilizing autologous plasma to inject direct healing signals to regenerate injured tissue
-Biomechanical FMS: functional movement screening to isolate areas of imbalance within the body's impaired movement patterns
For more information about the Shin Center visit the website listed above or call 856-270-6800.
Release ID: 88985918