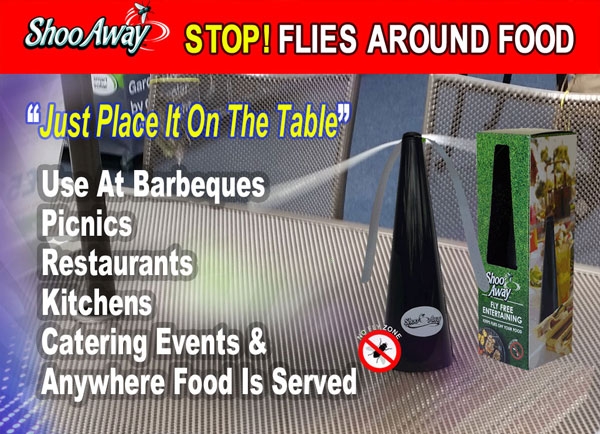 - July 14, 2015 /PressCable/ —
A new fly repellent that uses no chemicals at all and is 100% safe to use with food, children and pets has just been released. The innovative new ShooAway fly repellent uses holographic technology to create an environment flies hate.
More information is available at http://buyshooaway.co.uk.
Killing or repelling flies with insecticides is the norm in western culture but using chemicals that might be hazardous to ingest is far from ideal for people who want to keep flies off their food or keep flies away from their children and pets.
A great new innovation just released in the United Kingdom uses a very small battery powered fan with holographic dots on its two soft stop blades. These holographic dots see the bouncing refracted light as movement. Flies are very sensitive to movement…that's why they're so hard to catch. So they avoid the ShooAway fan.
Using this technology eliminates the need to use any form of chemicals to repel flies so the ShooAway fly repellent can be used perfectly safely even inches away from food.
The ShooAway fan also has great potential as a completely safe fly repellent for catering businesses for picnics, barbeques, restaurants or even just leaving it near an open window.
Company spokesperson Jason Pattinson says "This is the first time the ShooAway fan has been available in the United Kingdown. The product was originally developed in Australia where flies are a real nuisance because so much living and eating is done outdoors. The product works just as well here in the United Kingdom and people love the idea of finally being rid of flies around their food without having to use any kind of pesticide or chemical."
Pattinson says "This really is a very low cost solution. The battery powered ShooAway fan runs for 30 hours on just two double A batteries. That makes it a much lower cost alternative to most insecticides too."
The ShooAway product and pricing details are available at http://buyshooaway.co.uk/go/azon.
Release ID: 86710