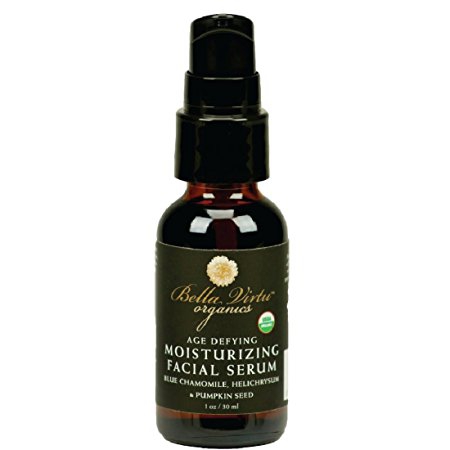 - December 6, 2017 /PressCable/ —
Experience the difference with a product that is not only a very effective beauty formula, but also uses all-natural ingredients and is cruelty-free. Most beauty products do not have these high standards in their practices. Bella Virtu Organics rises above the competition with their eco-friendly, chemical-free practices.
https://www.amazon.com/Organic-Hydrating-Facial-Combination-Wrinkles/dp/B072TT925Z
The Age Defying Moisturizing Facial Serum is part of a skin care line that promotes healthy, radiant skin without harm to the environment. Made from just ten botanical oils, the serum heals, moisturizes, and treats various skin ailments. Rosacea, eczema, acne scarring, psoriasis, and dehydrated skin can all be improved by using the Facial Serum and other Bella Virtu Organics products. Make the Facial Serum part of a skin care routine or use on its own. First, cleanse with the Bella Virtu Organics Facial Cleanser with Argan & Rosewood. Next, spritz the Facial Toner. Then generously apply the Facial Serum to the face, neck, chest, and backs of hands. Finally, add the Eye Serum to complete the routine. Do this both morning and night to see the best results in just a few weeks.
Bella Virtu Organics has a motto that drives their business, "To Forge The Gap Between Beauty and Health." This motto is exemplified in their quality ingredients for each and every formula. The Facial Serum contains just ten ingredients, all USDA certified organic essential oils. Each oil is chosen for its particular special healing and rejuvenating properties. Safflower, castor, sweet orange, and blue chamomile oils have excellent anti-inflammatory characteristics. Pumpkin seed oil is packed with Vitamins A, C, E, Zinc, and omega 3 and 6 acids to reduce fine lines and wrinkles. Helichrysum oil promotes skin regeneration and fights against free radicals. 
For a limited time, purchase two Bella Virtu Organics products on Amazon and receive 10% off the purchase price. A 100% satisfaction guarantee comes with each purchase, so there is no risk to buy.
For more information go to https://www.amazon.com/Organic-Hydrating-Facial-Combination-Wrinkles/dp/B072TT925Z
Release ID: 274480