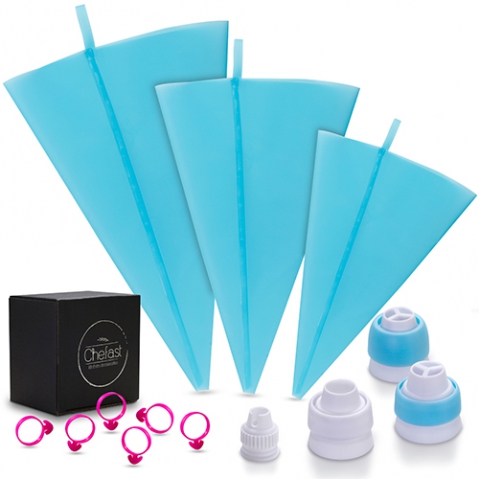 - August 16, 2017 /PressCable/ —
Chefast is pleased to announce the launch of their 13-pcs piping accessory set. The premium kit for pastry decoration includes three reusable silicone frosting bags, as well as four standard and tricolor couplers. There are also six icing bag ties.
Beginners and advanced users can use the two tri-color couplers for creating different types of Russian tulip nozzles. The additional couplers are a large standard coupler and a small coupler. The two tricolor couplers and large standard coupler will fit Russian piping tips measuring 1.20 to 1.24 inches at the base. The small coupler is used for regular-sized tips between 0.70 and 0.72 inches at the base. The four included couplers have interchangeable rings.
The three icing bags are available in three different sizes – small, medium and large. Each of the bags are constructed of silicone material which is durable and flexible. The frosting bags are suitable for decorating pies, macarons, biscuits, cookies, cupcakes and cakes. When the bags are not in use, they have convenient loops so they can be hung.
The six icing bag ties are designed to prevent messy leaks from the cake decorating bags. The ties are particularly helpful when the decorating project requires time. The frosting won't spill or dry out.
An e-book with tips about frosting, as well as useful piping techniques, is offered via email by Chefast at no extra charge. The company also offers a thirty-day refund guarantee, as well as a full one-year warranty.
The product is sold through Amazon.com and can be seen on the product page at https://www.amazon.com/Chefast-Piping-Bag-Coupler-Set/dp/B06XNX44LY, as well as on the Chefast official website.
Learn more about the Chefast piping bag and coupler accessory kit by paying a visit to chefast.com today.
Members of the press and others who have further questions about the contents of this press release are encouraged to contact the company at the location provided below.
Release ID: 228588