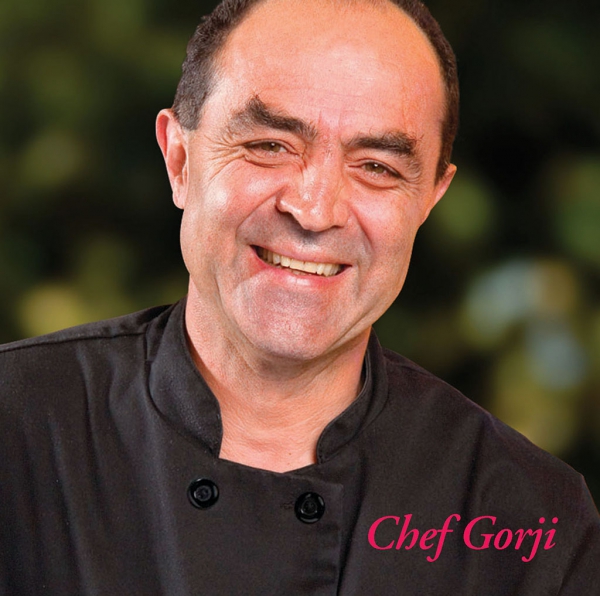 - September 15, 2015 /PressCable/ —
Chef Gorji, chef/owner of Canary By Gorji restaurant in Dallas, Texas will be presenting his fall cooking class featuring dishes from his award-winning cookbook Zing! By Gorji—New Mediterranean Cuisine. The class will be followed by a three course dinner and wines.
The class and dinner will be held September 28, 2015 at Canary By Gorji at 5100 Beltline Road, #402 in Dallas, Texas located in the Village On The Parkway. Please call 972-503-7080 for information and reservations.
Chef Gorji specializes in his signature New Mediterranean cuisine that he serves at Canary By Gorji and that he details in his easy to read and follow cookbook Zing! By Gorji. Pure olive oil. Lots of limes. Few batters, coatings, or rubs. No tahini in that hummus. Instead, an imaginative, personal, and highly memorable take on enhancing natural flavors that shows you how to use not so usual ingredients like pomegranates, barberries and sumac to infuse your cooking with freshness and flavor.
"New Mediterranean," Gorji explains, refers to foods that are rooted in the countries around the Mediterranean basin – France, Italy, Spain, Greece, the Middle East, Turkey, and North Africa. His recipes, the chef notes, are not defined by nationality but are rather cross-border combinations and new takes on traditional dishes."
Critical Acclaim
To date, Zing! By Gorji—New Mediterranean Cuisine has taken home five top wards in book publishing contests: National Indie Excellence Awards – 2 WINNERS–International & Regional Cookbook Category USA Book News Award – WINNER – International Cookbook Category London Book Festival – WINNER–International Cookbook Category IPPY Book Awards – GOLD MEDAL–Best Book/Publisher/Author Website
Gorji has been chef-owner of Canary By Gorji, a small 10-table restaurant in Dallas, Texas for 14 years. He has published a debut cookbook, Zing! By Gorji, featuring his signature "New Mediterranean" cuisine and developed his product line Gorji Gourmet Foods® from recipes he uses in his kitchen. They help home cooks make gourmet tasting dishes without a lot of time. They include Pomodoro, Puttanesca & Arrabiata Diavolo Pasta Sauces, Dipping Oil /Marinade and Pomegranate Vinaigrette. All three won Best Pasta Sauces, winning gold, silver and bronze at Zestfest 2015.
For more information about Canary by Gorji restaurant, Gorji Gourmet Foods and Zing! By Gorji Cookbook please visit ChefGorji.com.
Release ID: 91295