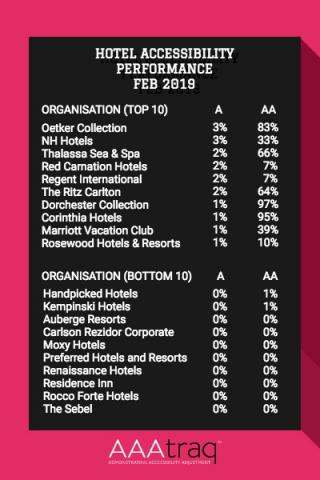 - February 28, 2019 /PressCable/ —
Accessibility is a veritable buzzword in the digital landscape – and for good reason. If your site isn't fit to be easily accessed by those with a disability, you (and your business) could be in trouble.
The law requires that websites must demonstrate reasonable adjustment. As part of this, under the Americans with Disabilities Act (ADA), sites need to meet the checkpoints of WCAG 2.0A and AA. Thanks to AAAtraq.com, organisations can now polish up their act – the hospitality trade cant take actions and improve its lack of compliance.
With multiple lawsuits filed against the world's largest organisations, few sites are safe. The Wall Street Journal reports a huge surge in lawsuits over websites' access for the blind. Plus, according to SCOPE, 19% of working age adults have a disability, which further highlights the importance of a truly accessible site.
A recent market study by Mandala Research discovered that American adults with disabilities spend more than $17 billion each year on travel. Giving some indication of how important the hotel industry is to travellers with a disability, it also displays why web accessibility is vital for hotels who'd like to provide its guests a premium service.
The hospitality sector is, of course, an easy target, with huge risks for those who aren't yet compliant.
Consequences for Hospitality Sector
According to our own risk assessments (pictured below), organisations like AC Hotels, Marriot and Corinthia Hotels simply need to be seen to be doing more, if they're to be deemed legally compliant.
One of the strands of AAtraq's service relates to checking accessibility compliance. With the aim of simplifying accessibility compliance – with the first stage of the managed process being to understand website risk – the site can guide site owners thought the compliance process, which includes supplier notice management, staff training and site audits.
Demonstrating Compliance – the Easy Way
Replacing complexity with confidence, site owners can demonstrate compliance with verified efforts to allow demonstration of reasonable adjustment.
In a bid to get a handle on how the hospitality arena looks, we put some of the world's largest and best-known organisations to the test. If we were to use one word to describe our findings, 'enlightening' would surely be an understatement. Take a look at the AAATraq.com Hotel Accessibility Score Table which provides a glance at some of the world's largest hotels – and their accessibility scores, including the top 10 and the bottom 10.
In order to be considered accessible, a site must pass the checkpoint of A (single A) and AA (double A) It's worth knowing, though, that a site that solely meets the checkpoint of AA hasn't met the standard.
One of the many stumbling blocks for organisations may be the confusion surrounding the various checkpoints. To explain, A and AA have their own, individual and separate set of checkpoints – and as such. their own 'requirements'. To be AA-compliant, you must meet the checks of the individual points in level A and level AA.
Of the hotels AAAtraq checked, the majority had issues on every last page of their website. Every site had less than 5% of pages meeting level A, with 84% of the sites failing A on every page.
Only 16% of the sites assessed achieved 75% or greater AA compliance, with 49% having under 10% pages that were complaint. Furthermore, 9% of the sites audited failed A and AA on every page.
Where to Start
So, what to do next? AAAtraq is here to help via its simple, three-step process. Guiding organisations through the compliance process and removing the confusion surrounding the legalities, AAAtraq will help you on your way to demonstrating reasonable adjustment.
Start by getting your FREE summary at www.AAAtraq.com. This provides an initial review, after which you can purchase a more detailed risk report, before subscribing to AAAtraq's service.
Release ID: 486320