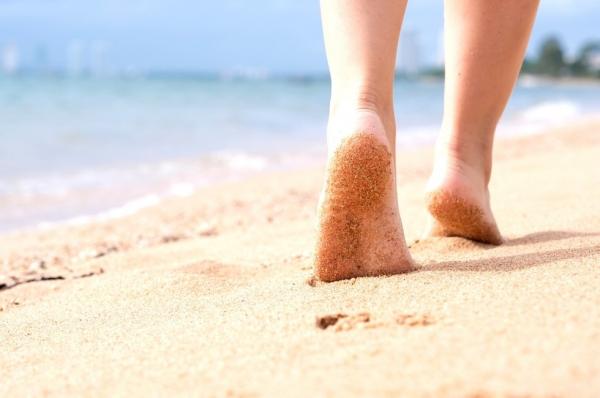 - June 8, 2021 /NewsNetwork/ —
Barefoot on the beach is the best way to walk says Sydney Podiatrist.
It's not a matter of opinion any longer, and it's certainly not some fringe conclusion based on "back to nature" theorists: bare feet are healthy feet. Most people already know that pointy shoes, high-heeled shoes, and ill-fitting shoes are bad for their feet, but research now conclusively proves that all shoes have the potential to negatively affect both their feet and the way in which they walk.
Mark Lin, a Sydney Sports Podiatrist, is unsurprised. He has always maintained that walking barefoot on the beach is the best way to go. After all, he's trained to assess gait and he has treated sports injuries for long enough to have seen the evidence for himself. But now, there's a peer-reviewed study to prove the point.
A study with the above title was published in the podiatry journal The Foot, and it shows evidence that the emergence of 'forefoot pathology' as a common problem is a relatively modern development that can be linked to walking on unnatural substrates and the wearing of shoes.
The researchers compared groups of people with a tribal lifestyle who were less likely to spend a lot of time wearing shoes, to habitual shoe-wearers and, as a clincher, the foot bones of 2,000 year old skeletons of people who certainly never wore a shoe or trod on tarmac throughout their lives. The latter group had the healthiest feet while the habitual shoe-wearers had the least healthy feet. A lead researcher commented that podiatric associations should more actively encourage barefoot walking.
As for Mark Lin, barefoot walking has always been the ultimate goal that demonstrates the "freedom of the feet" for which he strives. "If you can't walk barefoot on the beach in comfort, your feet need help," says Lin. "It's the most natural thing in the world, and you should be able to enjoy it the natural way."
The proof that shoe-wearing could be responsible for many of the foot-related problems folks experience backs up the claim of a 1999 article in the journal Podiatry Management. The author, Dr WA Rossi, points out that while the human foot and the way it works evolved over a period of 4 million years, a "carelessly designed instrument" in the form of shoes has changed the way we walk and run with the inevitable result of "stresses and strains."
Interestingly, Galahad Clark, heir to Clarks shoes, has become convinced that shoes are bad for people. During a career that has included exploring some new concepts in shoe design, his latest effort is a back-to-basics shoe that comes as close as any shoe can to barefoot walking. There's no lifted heel, no padding, no arch support – and the shoe is intended for wear in sports. Clark says that the shoe is designed to work with the feet rather than changing the way they work. A paper published in the journal Medicine and Science in Sports and Exercise concluded that athletes wearing expensive, cushioned running shoes were far more likely to experience injuries than those wearing inexpensive, uncushioned shoes.
Part of the reason for that is that when the feet are cushioned, people unconsciously subject them to the type of abuse they wouldn't even consider if they were accustomed to walking barefoot. Unfortunately, they are used to shoes, and they've learned a type of gait that is, to put it simply, wrong.
Further evidence comes for a study on reduction of stress to the knee joint in people living with osteoarthritis. Padded shoes were tested against barefoot walking and researchers were surprised to find that walking without shoes meant less stress on the knee joint rather than more. The researchers concluded that freeing the feet so that they could work with a natural motion was responsible for the surprise finding.
With so much evidence stacking up against padded shoes that constrict the way feet move, increasing numbers of shoemakers are getting on the bandwagon – not encouraging folks to walk barefoot, but instead designing their variation of the barefoot experience which, as can be expected, means wearing shoes. And with modern substrates being much harder on the feet than the surfaces our ancestors experienced, they may have a point.
However, says Mark Lin "There's evidence that long-term footwear use can affect gait permanently. People learn to walk and run in the wrong way, and they keep doing it with possible harm to feet, lower limbs, knees, hips, and lower back. At the same time, there are no studies on people living a modern lifestyle who have consistently walked barefoot all their lives. Substrate concerns are real, and the reality is that most people would prefer to wear shoes most of the time."
For now, the best scenario would be for people to be proactive about foot health and the impact of gait on the rest of the body. This would mean assessment by a podiatrist together with therapies designed to optimise gait and footwear recommendations to reduce stress on the feet and lower limbs. The best way to walk is barefoot on the beach but people can't spend all their time walking on the beach, so addressing the stresses and strains of a shoe-wearing lifestyle with the help of a podiatrist would be a best-case scenario.
For further information, visit the The Footwork Clinic – Sports, Podiatry, Foot And Lower Limb Corrective Services to book online, or call Mark Lin on +61 2 9131 6891.
The information contained in this guide is provided in good faith and is not intended to be nor is it to be used as a substitute for any sort of professional, medical or podiatric advice. An accurate diagnosis can only be made following personal consultation with a podiatrist. Any users should always seek the advice of their podiatrist, or other qualified healthcare providers before commencing any treatment.
Syndicated by Baxton Media, The Market Influencers, Your Digital Marketing Agency.
Release ID: 89023860