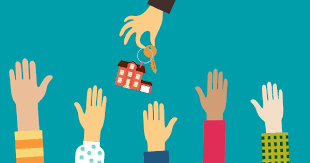 - August 30, 2017 /PressCable/ —
The National Association of Exclusive Buyer Agents (NAEBA) recently conducted a survey among their members on the topics of Under-Appraisals and Comparative Market Analyses (CMAs).
Survey results showed that 87.14 percent of Exclusive Buyers Agent respondents said that although they personally have not had issues with their clients' homes under-appraising, 38.57 percent of respondents said that under-appraisals are typically an issue in their market area. And 44.29 percent of respondents said they weren't sure if it was an issue in their market area or not.
As Richard Rosa, Buyers Brokers Only in Haverhill, MA explained, "It appears that the problem with appraisals is a result of an emotional homebuyer who offers far too much money for a property because of his or her fear or being outbid and not having a buyer agent willing to explain that the house just isn't worth that much money."
Among the Exclusive Buyer Agent respondents, 94.29 percent said they complete a Comparative Market Analysis for their buyers to assist with a purchase offer.
Often in traditional brokerages, especially those with teams, buyer agents are the newest, least experienced agents, while the more experienced agents are the ones taking listings. The Exclusive Buyer Agent respondents said that 52.86 percent of buyer agents in their area are the newest agents in the brokerage.
NAEBA member Jon Boyd, The Home Buyer's Agent of Ann Arbor, MI said, "Since working with buyers tends to be more time intensive, it is very common to see brokerages give that work to the least experienced agents in the office. When we view properties with buyers, we actively help evaluate the homes while we are there. An inexperienced agent can't provide that service."
And Anthony Askowitz, broker-owner of Re/Max Advance Realty in Miami, FL, actually recommends this practice with his recent article for Inman News: "Buyer representation is a C-level service that could easily be assigned to a less-experienced agent in the office, team or partnership or outsourced to another agent in return for a referral fee."
One way that local Exclusive Buyer's Agent Julie Tuggle, with Carolina Buyer's Agent, addresses the risk of an under-appraisal is to include an addendum where the seller agrees to lower the purchase price, or return the due diligence fee in the event the home appraises for less and the seller is not willing to lower the purchase price.
These survey results conclude that the prevalence of under-appraisals is inversely proportional to the number of homes available for sale in the market area.
Release ID: 234515