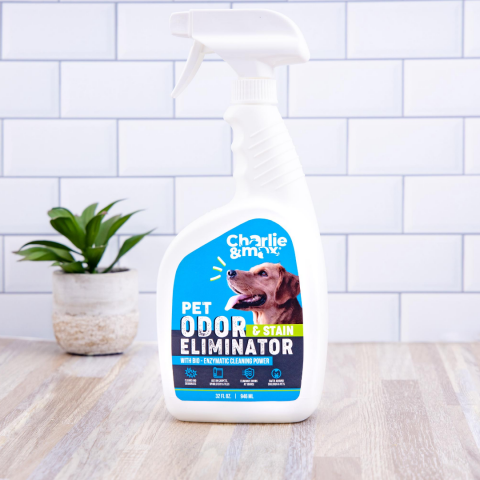 - June 13, 2020 /PressCable/ —
Charlie & Max products got it started when their founders noticed a growing need for pleasing not only owners, but also their pets by using natural and highest quality ingredients available on the market to create a product that could make them both happy . With a team having +20 years of experience in product development, they decided to go ahead and start in 2019.
The idea for creating The Charlie And Max Pet Supply Company came from the name of their 2 rescued dogs. At the beginning they were only going to adopt one and they fell in love with Charlie, but Charlie wouldn't leave his best friend Max behind. So they adopted them both.
The Ultimate Pet Odor And Stain Eliminator by Charlie & Max is one of the main products launched by the company which is a a plant-based cleaning formula designed to remove the most sturdy stains and unpleasant odors caused by pets.This product is designed to be more potent and effective than competitors while being safe for our furry friends
Charlie & Max has done something different compared to other businesses in the Pet Supplies space, with a percentage of their profits being donated to support local Shelters.
One customer (Jessica) is quoted saying: "I HIGHLY recommend their cleaner. I have been using this product for about a week and I love the smell! … My rescued baby kittens are just learning to use the litter box and this product has come very handy!"
Pet Odor & Stain Eliminator and many other products are already out and available for purchase. With many products proudly made in the USA, the Charlie and Max Pet Supply company expect a speed growing during the 2020.
For more facts and further information about Charlie & Max, this can be discovered at https://charlieandmax.com/
Release ID: 88961821