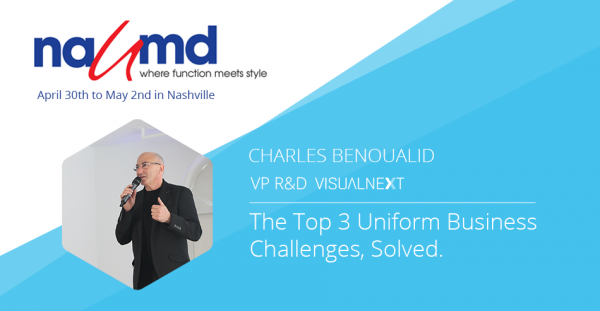 - April 19, 2017 /PressCable/ —
Visual Next, the leading end-to-end software solutions provider for apparel and uniform businesses, is proud to announce their sponsorship of the Naumd 2017 conference and expo in Nashville, Tennessee. The three day event will feature keynote speeches and panel discussions by leaders in the uniform industry.
The conference sessions will cover a wide range of topics including economic business practices, developments in the postal and military uniform industry, and leveraging technology to optimize business processes. Visual Next will be taking an active role in the event with Charles Benoualid, VP of R&D, presenting on the subject of taking on three modern uniform industry business challenges by implement omnichannel strategies and leveraging the latest technological innovations.
"The uniform industry, like nearly all industries today, is going through significant changes.
Companies that adopt the latest technology quickly, and utilize the business data available – regardless of the size of the enterprise – stand to make massive gains," explains Vice President of Research and Development, Charles Benoualid."Having worked closely with over 600 companies worldwide, including many uniform providers, we are confident that our solutions make a significant impact on our customer's business."
Along with their entire best-of-breed End2End suite of apparel specific business software, Visual Next will demonstrate their Uniform Customer Portal (UCP) module, built specifically for uniform manufacturers and distributors to sell their products better.
Staying up to date with today's demanding market is a challenge. Learn why automation, integration and optimization will play a key role in the future with Benoualid's keynote. Visit Visual Next at booth #2 to talk to experts that have improved the businesses of over 600 companies in 10 countries.
The Naumd convention & Expo takes place on April 30th to May 2nd at the Sheraton Music City in Nashville, TN.
About Visual Next
20 years in the making, Visual Next provides End2End software solutions for apparel, footwear and fashion accessory companies. More than 600 companies around the world take advantage of Visual Next′s advanced PLM, ERP, Supply Chain Management, Warehouse Optimization, Ecommerce and Business Intelligence software. For more information, please visitwww.visualnext.com
Release ID: 187662