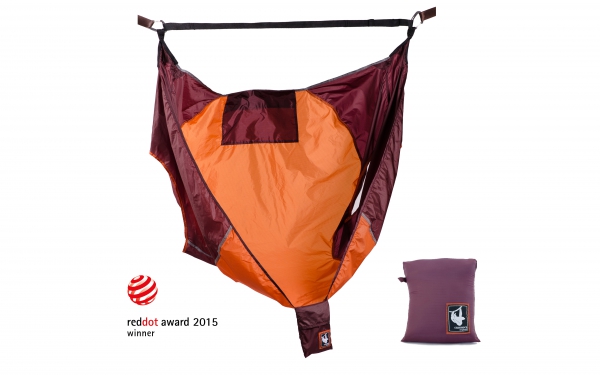 - August 23, 2016 /PressCable/ —
A new exclusive hammock chair has been launched, called the Chammock, a portable lightweight single travel, hiking, camping and backpacking nylon chair that can be strung up from trees to offer comfortable seating when outdoors. Chammock Original's durable, lightweight, construction works on any terrain, and folds up to be able to get carried easily in a backpack or attached to a belt.
More information can be found on the Chammock website at: http://chammockco.com.
The site explains that the Chammock gives backpackers, hikers, campers and anyone who likes to adventure in the outdoors an ultra comfortable seat wherever they need it. It goes on to say that, unlike standard hammocks, which force the user to lay down and have no back support, the Chammock offers a supportive upright seating position, so the user can sit down to eat, relax, and read.
It emphasises that the compact easy to stow hammock chair only weighs 9 oz and comes with two built in storage pockets. It can be set up quickly with a unique tree friendly suspension system, and only needs four feet width to set up.
The Chammock website underscores that the idea for the unique hammock chair came when the creators were on a hiking trip from Patagonia to Yellowstone National Park. They had hammocks with them, but didn't get much chance to use them. This is because a traditional hammock needs a large amount of space to be set up, and requires a specific environment, with two solid items between 10 – 15 feet.
The Chammock was designed with this need for space in mind, allowing hikers and adventurers to carry it with them without worrying about not being able to use it. The creators know that size and weight are important to hikers when they're outdoors. Because of this, they made sure to minimize the size of the Chammock, so it can be carried with ease.
Made out of heavy duty, ripstop nylon 66, the Chammock is durable and easy to use, and has won a 2015 Red Dot design award. Full details can be found on the Amazon page listing at: https://amazon.com/dp/B01K6N0HIK.
Release ID: 129074