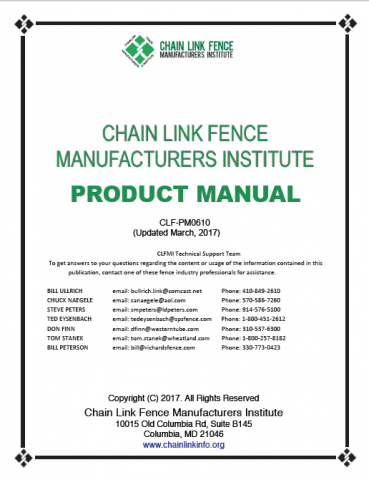 - May 2, 2017 /PressCable/ —
The Chain Link Fence Manufacturers Institute (CLFMI) has announced the release of the newest edition of their Product Manual. This edition has been updated to include the latest ASTM standard F1043, Specification for Strength and Protective Coatings of Steel Industrial Chain Link Fence Framework, which was recently revised reflecting a new table for the selection of posts.
The CLFMI Product Manual (CLF-PM0610) is a 32-page guidebook provides the user with the nationally-recognized standards of quality for chain link fence fabric and framework. References all applicable ASTM and federal standards. Section (1) provides direct access to the CLFMI GUIDE FOR SPECIFYING COMMERCIAL, INDUSTRIAL, AND SECURITY CHAIN LINK FENCE AND GATES ( Contract Section 32 31 13) part of the manual. Section (2) provides a direct link to the Drawings part of the manual The Product Manual is being used extensively throughout the world by architects, specifiers, contractors, government agencies, contracting authorities, and consumers to assure that they are specifying, using, and properly installing chain link fencing systems. The guides cover commercial, industrial, residential, and high security chain link fence projects and uses.
Here is the list of other important Chain Link Fence Manufacturers Institute publications:
1. Tested and Proven Security Chain – (CLF- TP0211) With this newly-released 12-page report, security and fence professionals have the information and test data needed to specify and select security grade chain link fence systems based on the time required for forced entry penetration or its ability to protect people and property from vehicular impact. These testing results provide the data to make a well informed, logical decision.
2. Field Inspection Guide – (CLF-FIG 0111)
 The guide that gives installers and inspectors a handy list of inspection procedures, guidelines and standards. Includes a "tear off" report form.
3. Wind Load Guide for the Selection of Line Post Spacing and Size – (WLG2445)
 The 32-page guide for architects, specifiers, and engineers with information on the factors that influence the size and spacing of line posts. Includes 12 tables to help determine appropriate line post spacings in various wind load conditions.
4. Security Fencing Recommendation – (CLF-SFR0111)
 This guide provides the answers to questions about which chain link fencing systems to use for various levels of perimeter security. Includes references to applicable ASTM & Federal specifications and sample installation drawings.
The new Chain Link Fence Manufacturers Institute Product Manual edition, plus all of the other technical publications in the CLFMI Library, are available for free downloading at www.chainlinkinfo.org
For more information contact Mark Levin at info@chainlinkinfo.org
Release ID: 192302