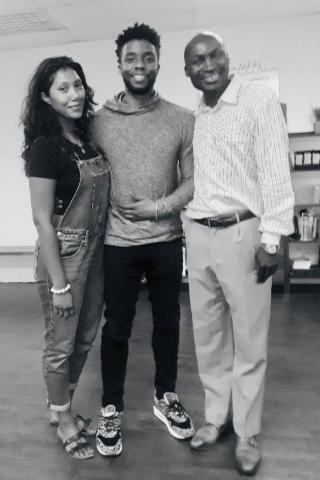 - September 23, 2020 /PressCable/ —
On August 28, 2020 the world lost a superhero. Everyone knew Chadwick Boseman as the iconic Black Panther from the blockbuster Marvel film but Pastor Gershom Sikaala, Chadwick's pastor and mentor, knew him as a brother and friend.
Boseman suffered from colon cancer for four years but hid it from the media. He confided only in a handful of people including Sikaala and two other church members. The teamwork of Boseman's wife, Taylor Simone Ledward, Sikaala, and their two friends helped support Boseman through his final films. One of his inner circle, Sikaala walked with him through his four year battle, giving him spiritual advice and support.
While filming Spike Lee's Da 5 Bloods, Boseman was not in good shape. "Two of my church members who were gifted in helping people traveled with Chadwick while he was filming and helped him with the pain and physical issues."
Sikaala first met Boseman years ago when he visited the two friends who were members of Sikaala's church. They had an instant rapport. "I liked his spirit. He was fun, kind [and humble]. He didn't say he was an actor or a celebrity." They became friends and Sikaala began to mentor him spiritually. "He was a superhero, but he was also a person who loved God," said Sikaala.
When Boseman was diagnosed with colon cancer, he told Sikaala and they began meeting regularly. His wife Simone almost always accompanied him and Sikaala prayed for them. Boseman would text or call Sikaala on a near daily basis to pray, especially while filming or going through chemo or surgery.
While filming Denzel Washington's Ma Rainey's Black Bottom Boseman prayed with Sikaala over the phone before going to set.
When Boseman was free, they would spend hours together at a time. "I learned so much from him. He was very intelligent. When we had a conflict with the media, I asked his advice."
Boseman replied, "Doesn't matter how much good you've done in the past. The media is brutal. The righteousness of God protects us from evil's attempts to destroy what we build. So you have to do your best to find righteousness now."
On August 17th, Boseman called Sikaala one last time. "His voice was breaking…he wasn't well," Sikaala said. Because of COVID-19, we were not able to meet [for] prayer. I told him 'You're my brother for life.' He said, 'Really? But I'm dying.' But I said 'No, you're my brother.' We [prayed]…and he told me 'I'm fine.' He meant he had made peace with himself, he was ready to meet his God. I wanted to talk more but I was with people. He said, 'Please pray for whoever needs prayer; they need it as much as me.' He was always very selfless. I wish I recorded that conversation."
"My two church members visited him every day in the last days until August 27th and kept me updated. The day I didn't hear about him was the day he died."
Sikaala recounted a story from Boseman's youth. "Before he became a well known actor, while he prayed and fasted…God visited him in a dream and showed him that he was in a movie [in which] he was transformed into another man. [Chadwick] believed it represented the Black Panther." Sikaala explained, "He wanted to really make an impact for the Lord. Without mentioning the name Jesus, he wanted to be a living example. He preferred to walk the walk than talk."
"During the time of prayer, Chad's life was extended many times. He didn't allow chemo or cancer to stop his dream, especially to bring honor and dignity in the film industry, to make a path for many African-Americans and Africans, that they can be superheroes. Chadwick will always be a superhero, because he had a superhero living inside him, the Lord Jesus Christ."
Sikaala reminisced, "One day his wife, Simone, asked me, 'Why do you think the Lord chose you to walk with my husband during this hard time?' And I said I don't know. But now I know that it was to comfort him and to bring him closer to God during the time he was the most vulnerable."
Boseman was less private about his generosity. He contributed to many charities and causes including Sikaala's Global Charity Initiative which is committed to eradicating poverty around the world. The actor who personified King T'Challa promoted the organization, but he left early from their October 2019 gala. One tabloid unfortunately misreported his early departure as something less sincere. The truth was that Sikaala said, "He whispered to me that he was in pain. So immediately I had the driver take him home." The day before he was very sick but he still came to support his friend. "He's a man of honor and integrity." Like the values represented in the fictional Wakanda, Boseman and Sikaala shared a dedication to empowering others by changing mindsets to help people take charge of their lives. "Even when the media tried to separate us, we still stuck together and he taught me a lot about how media works."
"Chadwick, I will always miss your stories, our [time] with your beautiful wife, a warrior woman…Simone, I salute you. You were a rock in Chadwick's life. Simone, you are a true hero…along with your husband."
Dr. Gershom Sikaala started preaching at 14 after having an encounter with the Lord Jesus Christ that changed his life forever. He is passionate for people to experience the same. Sikaala mentors and trains people to become leaders in Hollywood and all over the world, including celebrities and influencers.
He authored 11 books. Two that have impacted many influential figures in Hollywood and in the church are "Breakthrough Thinking" and "New Dimension of Glory."
He founded Authentic TV (ATV) which is available on Roku and Amazon Fire TV. "ATV is TV with a purpose, not just for passing time. Our mission is to spread hope." The content is faith and family.
For more information visit: https://www.gershomsikaala.org
Release ID: 88977154