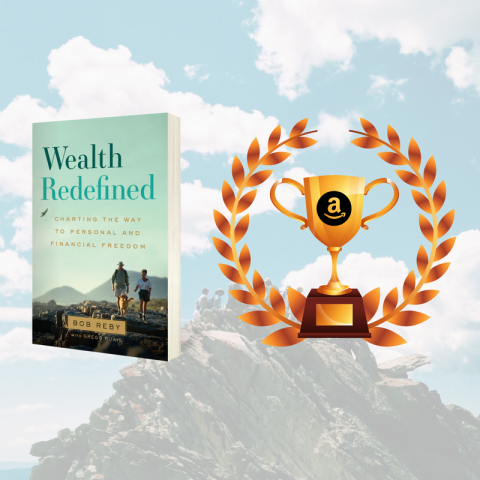 - November 22, 2017 /PressCable/ —
Author Bob Reby, Certified Financial Planner and CEO of financial planning firm Reby Advisors, has reached the Amazon Kindle Best Seller list in the "budgeting & money management" and "retirement planning" categories for his second book, "Wealth Redefined: Charting the Way to Personal and Financial Freedom," Greenleaf Publishing Group has announced.
Details about the book and the author are available on the Reby Advisors website: http://www.rebyadvisors.com/blog/wealth-redefined-…
"Wealth Redefined" has attracted readers seeking financial freedom, a worry-free financial plan, and a path to the individual's unique version of wealth. The author reframes the concept of wealth to extend beyond money and include lifestyle goals related to health, relationships, and peace of mind.
"A large portion of this book is dedicated to retirement planning. How can you live the lifestyle that you want without running out of money? [Reby] believes that "wealth redefined" means that we should strive to achieve the right balance in our lives that also takes into consideration whether we're spending our time and our money on the right things…I found this book very helpful. The information is presented in an understandable manner and many examples and case studies are provided," wrote Jannette Fuller, on Amazon.
A chapter titled "Keeping Score: Systematically Minimizing the Risks to Your Family's Lifestyle" details 15 financial risks that should be addressed in a goals-based financial plan.
Several of the risks identified are written about at length as chapters within the book, including:
Behavioral risk: how to avoid the nine investing mistakes caused by human psychology, and instead take advantage of the investment mistakes of others.
Protecting income from catastrophic risks: planning for premature death or disability, the soaring costs of health care, personal liability, and long-term care.
How to avoid outliving assets: determining a household spending budget, how to withdraw from a portfolio, guaranteed income strategies, and how to sustain one's lifestyle despite market crashes
The book frames these personal finance topics within the context of an individual's lifestyle goals. Personal circumstances, values, and preferences make financial planning a personal experience – not one where the same answers apply to everybody.
People looking to discover a financial plan to their unique version of wealth may learn more at: http://www.rebyadvisors.com/blog/wealth-redefined-…
Release ID: 267975