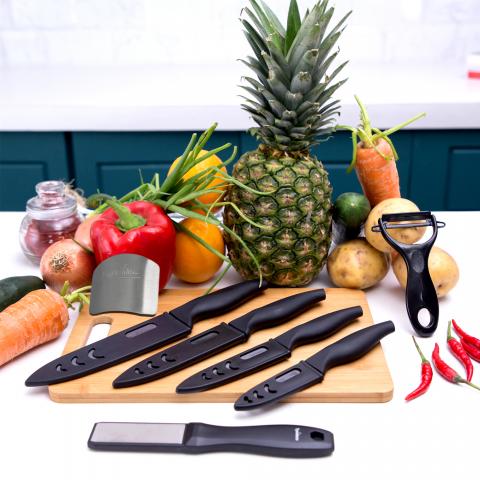 - August 30, 2020 /PressCable/ —
Tyeideas, LLC announces the latest upgrades to their popular ceramic knives set. To continue customer satisfaction, the company continuously improves on their products based on user feedback and requests.
More details can be found at https://www.amazon.com/Ceramic-Knife-Set-Kitchen-Knives/dp/B07SYPW2XW
The newly announced upgrades are all aimed at making meal preparations easier for chefs, foodies, culinarians, and even regular home cooks.
Following customer feedback, Tyeideas has increased the width of the knives' blades, making for much stronger cutting tools that can be used for a wider range of cooking applications.
Another major upgrade to the knives set is the addition of the finger guard. Since the ceramic knives are extremely sharp, the new safety feature gives significant protection for users' fingers and hands.
Aside from improvements to the knives themselves, Tyeideas includes additional tools that can further enhance customer experience.
The set now comes with a diamond knife sharpener to help extend the life of the blades. The company recognizes that all knives, including ceramic ones, naturally get dull with repeated use. Designed specifically to work with ceramic blades, the sharpener allows customers to enjoy the knives for years to come.
A bamboo cutting board is also now included in the package. The board's bamboo construction makes for a beautiful cutting accessory that is also gentle on the knives. A 100% renewable and all-natural resource, bamboo is a less porous and more sanitary material compared to hardwood.
A stainless steel cutting finger-guard is included to assist in faster food preparation while reducing the risk of injury to fingertips.
Tyeideas, LLC is based in the Pacific Northwest and known for their precision-cutting and lightweight ceramic knives. Among the well-loved features of their products are their ergonomic design and ultra-sharp blades.
A satisfied customer also notes, "Great knives. Well made, and very sharp. The bamboo cutting board is a nice bonus and the finger guard is totally a blessing."
The ceramic knives set is currently available on Amazon for $43.97.
Interested parties may visit the product page accessible through the link at https://www.amazon.com/Ceramic-Knife-Set-Kitchen-Knives/dp/B07SYPW2XW
Tyeideas has also sponsored a YouTube video sharing the customer experience accessible at https://www.youtube.com/watch?v=F8m2yUKk4mA
Release ID: 88974811