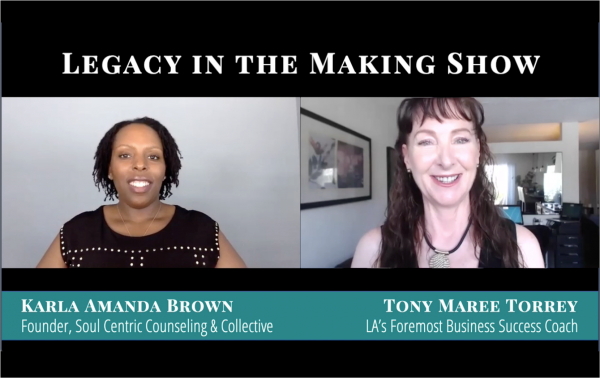 - January 13, 2021 /PressCable/ —
FOR IMMEDIATE RELEASE.
Los Angeles, CA the United States
LEGACY IN THE MAKING SHOW guest, Karla Amanda Brown a licensed psychotherapist at Stanford University and the CEO of Soul Centric Counseling and Soul Centric Collective gives us a peak under the hood of how she rapidly transitioned from flying solo to 10 fully booked practitioners in her therapy practice in a matter of months.
This is the power of clearly articulating business values, vision, and mission to attract the perfect clients AND employees.
Karla's journey from struggle to prosperity built on service to others is a testament to the strength and heart of this amazing woman.
"Creating this culture of trust and to some extent, vulnerability has allowed me to lead but not have to be so hands-on because I've got people that I know, that I can trust." – Karla Amanda Brown MA, LMFT
IN THIS EPISODE YOU WILL LEARN:
– How to leverage values, vision & mission to attract your best employees and customers
– The power of sharing your lessons and transformations with others
– The specifics of exactly how to build a brand around what's most important to you
– 2 highly effective yet simple techniques Karla teaches her clients that will shift stress and lift your mood instantly
So check out the link and bring your values to life in your chosen profession today!
THE LEGACY IN THE MAKING SHOW: Lead with Wisdom, Prosper through Passion – believes we can change the world through how we do business.
The podcast highlights interviews with Founding CEOs, thought leaders, and high achievers who create transformative results in their own business cultures, local economies and on a global scale. We dive into the stories behind their success to give practical, real-world insights that other pacesetters can apply to their own journey. This dialogue raises the bar on business leadership. It answers the question:
"How do we lead with wisdom, transform limitations into strengths and prosper, while creating a positive impact?"
Find the entire episode video and audio at https://legacyinthemakingshow.com/karla-amanda-brown/
ABOUT TONY MAREE TORREY:
For 18 years, Tony Maree Torrey has been hired by Founding CEOs and high achievers who want to make a difference for themselves and the future. Her clients have generated multiple 6, 7, and 8 figures, written best-selling books, fast-tracked or turned around businesses, landed TV and movie roles…all while being in alignment with their greater sense of purpose, inner-peace, and contribution.
Australian born, she arrived in the US in 1989 with nothing but a backpack. After climbing the corporate ladder to lead global teams she turned to business coaching.
Her work took on a deeper meaning when her parents unexpectedly passed away 2 hours apart. Her inner guidance prompted her to drop everything and jump on a plane home to Australia. She landed just 36 hours beforehand and with enough time to say their goodbyes.
Tony Maree realized that if it weren't for the skills she'd developed over the years to hone her instincts, she would have missed out on being present for one of life's truly critical turning points.
She saw how many of her clients were missing this piece of life's equation. Now she's shifted her coaching to address this gap and her clients learn to tap into instincts that catapult them to their next level of visibility, profitability, impact, and fulfillment.
ABOUT KARLA AMANDA BROWN:
Karla Amanda Brown is the CEO of Soul Centric Counseling and Soul Centric Collective
Her counseling organization specializes in helping people get to the other side of personal traumas and betrayals. It's less about your socio-economic status and more about helping you get out of the cycle of victimhood and into personal empowerment
She and her team of highly qualified counselors will take you from zero to hero from people who can't afford the gas to get to our office to people who drive Teslas.
And because she's determined to empower other practitioners to increase their reach and find the audience they are meant to serve by listing their group programs in a simple directory format.
This makes it super simple for people who are looking for healing and a sense of community to find the right group and practitioner for them.
Release ID: 88993319