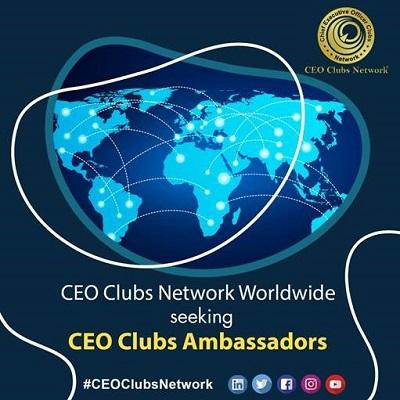 - December 15, 2020 /PressCable/ —
DUBAI, United Arab Emirates – December 15, 2020 – CEO Clubs Network is pleased to introduce CEO Club Ambassador (CCA) Initiative worldwide to help CEO's and Business Leaders to achieve business growth and overcome challenges.
The CEO Clubs Network Worldwide, an award-winning and one of the most prestigious and largest business platforms in the world, has introduced "CEO Clubs Ambassador (CCA) Program" to promote and bring more new members from different countries for building a broader community and providing benefit as many business leaders as possible.
Especially in the current business situation where companies need to connect with business opportunities from all over the world. The CCA will play important roles in community building, business connections, and collaboration. A great candidate will be able to commit to taking a good amount of dedication in helping CEO's, High Executives, and Entrepreneurs to achieve business growth, expand and overcome challenges.
Read more about CEO CLUBS NETWORK WORLDWIDE CHAPTERS: https://www.ceoclubsnetwork.com/ceo_clubs_chapters
Tariq Ahmed Nizami, Founder & CEO of CEO Clubs Network Worldwide said, "Every new member will be a light that brings worldwide opportunities to existing members. If a new member can be another member's client, a partner, or a solution provider, then the existing member could provide services/products from other members in our reputed network. A strong connection becomes so easy and it has no boundaries for expanding the business. We are proud of our dedication in providing solutions to business collaborations and corporates sustainability."
He continued, "It is a win-win model for long-term cooperation and building nations to work in a good business environment. Our reward system makes sure our Ambassadors receive good incentives and entitle all the Elite Category Membership Benefits. Growing with us is the mission, helping others to grow is the goal. We are building a Business Circular Economy in CEO Clubs Network. Both Ambassador and CEO Clubs Network will work hands-in-hands to achieve community goal by connecting 100 Million CEOs and Entrepreneurs from 188 countries."
The key guideline to be considered by the CCA are:
– The title can be used as CEO Clubs Ambassador (CCA) for a City of Country
– The Ambassador needs to market and promote the CEO Clubs Services including Memberships and CEO Clubs Corporate Package (CCP) in their city/country representation
– CEO Clubs Network will appoint only a very limited number of Ambassadors in City/Country
– The qualified applicant will sign the CEO Clubs Ambassador Agreement
– The Ambassador will receive good incentives after fulfilling the CEO Clubs requirements
– CEO Clubs Network will host and maintain the dedicated website for each country and the ambassadors' profiles will be added to the website
– The Ambassadors will be fully supported by the CEO Clubs Network Worldwide, providing necessary materials and training of its services and initiatives
– All new members are entitled to standard member benefits
– Members Support and Benefits Delivery will be done by CEO Clubs Offices
– Ambassadors can support local conferences and other major events
– All local country/city cost including operation & marketing fee will be the responsibility of the CCA
– All Ambassadors must represent and strictly follow all CEO Clubs Guidelines at all times
Interested candidates can find more information about the Criteria and Guideline here and can reach by email: partner@ceoclubs.com for complete details.
About CEO Clubs Network
Having HH SHEIKH JUMA BIN MAKTOUM JUMA AL MAKTOUM as the Patron and the Chairman of the Board of Governors of the CEO Clubs UAE a Chapter of CEO Clubs Network Worldwide, CEO CLUBS Network is the Largest Business Networking Club in the world, having a presence in 50 countries with more than 16,000 exclusive elite CEOs & High Executives members worldwide. CEO Clubs Network holds regular exclusive business events in Dubai and other parts of the world to provide a platform for International businessmen to meet local businessmen to explore & connect business opportunities between elite exclusive members worldwide.
CEO Clubs Network has overseas chapters all over the world and has taken business delegations and organized exchange events between the USA, UK, China, India, UAE, and other countries and has recently signed a digital marketing partnership with Sekai Business to accelerate digitalization and globalization transformation.
For more information, visit CEO Clubs Network websites: www.ceoclubsnetwork.com or www.ceoclubsuae.com
LinkedIn: CEO Clubs on Linkedin
Release ID: 88990010