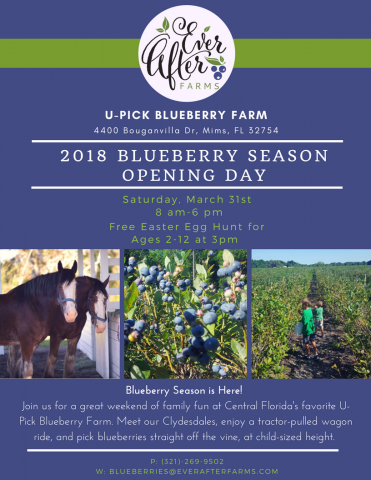 - March 24, 2018 /PressCable/ —
Ever After Farms, one of the top rustic wedding barns in Florida, are opening up their Blueberry farm for this year's U Pick Blueberry Season. This is a chance to have lots of great family fun doing things such as Easter egg hunting for ages 2 to 12, enjoying a tractor-pulled wagon ride, meeting the pair of farm mascots and the majestic Clydesdale horses, and of course picking lots of fresh blueberries. The Blueberry Season begins on March 31st at 8 AM.
Where most businesses tend to just post some flyers and leave it at that, Ever After Farms have decided to be a little more exciting with the start of 2018's Blueberry Season.
Phil, owner at Ever After Farms, says: "We want to be exciting with the launch of this year's Blueberry season and we want to give our customers a really great time. It should be really worthwhile and we're hoping it brings our guests a lot of fun during the weekend. It should go great unless we anger the gods in some way!"
Ever After Farms has always made a point of standing out when compared to other wedding barns in the Florida area. This yearly Blueberry season is just one of the many ways it does so.
This is a great chance for Florida residents to have a great day out with their family, bask in the serenity of the wedding barn, and support a wonderful local business.
Ever After Farms has been serving the Florida area for years. To date, it has served thousands of customers and has become recognized as one of the top rustic wedding barns in the area. It can be found at 4400 Bouganvilla, nestled in the small farming town of Mims.
Phil also said: "While Ever After Farms may not be the only business with this kind of offering, local residents are choosing Ever After Farms over others, and that's why we've remained one of Florida's favorite rustic wedding barns and blueberry picking farms for years. This is due to our incredible features (ACs, indoor bathrooms, blueberry farm, etc.), strategic situation, and client satisfaction."
When asked about the new wedding venue service, Phil said: "We think it's going to be a hit because the blueberry picking season, which usually runs from April through June every year, is completely unique and our guests can't wait to enjoy all the fun it promises to bring".
Further information about Ever After Farms and the U Pick Blueberry Season can be found at http://www.everafterfarms.com/
Release ID: 319756