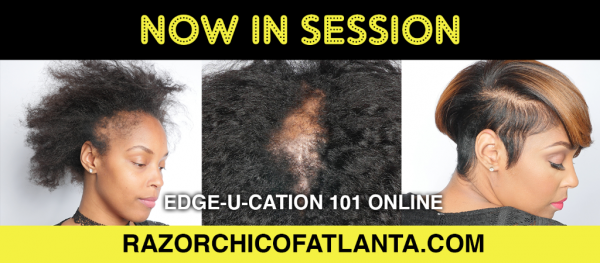 - January 19, 2017 /PressCable/ —
In the spirit of New Year's resolutions, one of the nation's most revered hairstylists— Jasmine "Razor Chic of Atlanta" Collins (aka Razor Chic)— is committed to making 2017 the "Year for Restoring Crowns" and is calling on her industry peers to join her in this mission. Aimed at freeing women from their dependency on wigs, weaves and braids, Razor Chic's 2017 mantra is the result of her frustration from having women from all over the world come to her salon in hopes of receiving a miraculous hairstyle to cover areas of thinning/missing edges, bald spots, and severe hair loss that is oftentimes caused by a condition known as traction alopecia. For 2017, Razor Chic is committed to equipping fellow industry hairstylists with the necessary knowledge and techniques that will help them meet the growing demand of women who seek professional haircare to restore their damaged crowns.
Kicking off her New Year's resolution, Razor Chic has just launched her EDGE-U-CATION 101 Online Course, which is designed to serve as a virtual Look & Learn experience to demonstrate her signature hairstyling techniques on traction alopecia sufferers. These techniques have contributed to the miraculous Razor Chic Makeovers that have made Razor Chic a beloved social media superstar with a following of more than 800k and a recipient of countless news features including those published in ESSENCE, SELF Magazine, The Huffington Post and Daily Mail to name a few. Razor Chic's online courses aim to enhance technical skills, hairstyling foundation skills and business growth skills to increase the earning potential of stylists who choose to master the art and beauty of styling "real hair." Enrollment into this online program is accessible via www.RazorChicofAtlanta.com.
"Hairstylist, the most important gift that you can give your client is their confidence. To be able to change the lives of those that we come in contact with is amazing, " says Jasmine "Razor Chic of Atlanta" Collins. "On a daily basis, we try our best to bring out each client's own unique beauty that allows them to shine. That WOW moment that we experience once the client receives a hair transformation is priceless. To be able to give your client their confidence, beauty, and poise back through hair creates a life changing moment. I'm so happy to have created my Edge-U-Cation 101 online course for stylist wanting to invest in their craft for the New Year! My course will help stylists with their technique while making their clients strong, confident women in the process. This is why I declare 2017 the Year for Restoring Crowns!"
Later this year, Razor Chic of Atlanta will bring Edge-U-Cation 101 to multiple cities through a hands-on training class, where she will walk hairstylists, step-by-step, through her signature styling and cutting techniques. Additionally, women suffering from varying degrees of hair loss will be able to get access to the infamous "Razor Chic Make Me Ova" transformation through the Razor Chic of Atlanta Pop-Salon Tour. Upcoming details on Tour dates and locations will be available at www.razorchicofatlanta.com.
Release ID: 162949