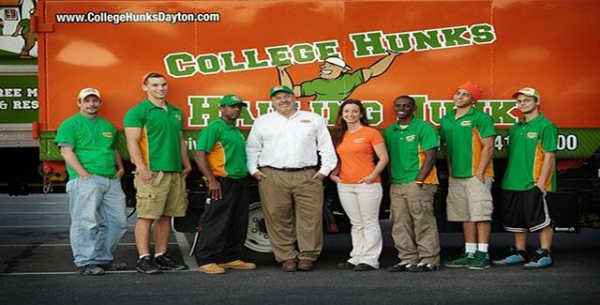 - April 6, 2016 /PressCable/ —
Dayton, Ohio – Local Moving Company celebrates their 3rd year anniversary this coming April 25, 2016. The College Hunks of Dayton is a local moving company franchise of College Hunks Hauling Junks by Tom Powell, CEO and sole proprietor of the franchise in Dayton, Ohio is excited to announce their 3rd year anniversary with the conjunction of fundraising program with Daystar In Action. DaystarInAction.org is locally geared for the underprivileged children and helps in developing their self-esteem and self-worth through various activities. College Hunks of Dayton has joined forces with DIA to raise funds to help these kids through services of the local moving company of College Hunks of Dayton.
College Hunks Hauling Junk has been named one the fastest growing businesses in America by "Inc." and has made "Entrepreneur" magazine's list of top franchise opportunities for five years in a row and counting. The company was started in 2003 by Omar Soliman and Nick Friedman, and it began franchising in 2006. Omar and Nick have been named two of the top young entrepreneurs in America by "Inc." magazine. They wrote the best-selling entrepreneurs book and co-authored "Effortless Entrepreneur" to share their planning, lessons, and strategies that have made College Hunks Hauling Junk an overwhelming success. College Hunks Hauling Junk is the fastest-growing junk hauling and moving the franchise in America.
College Hunks Hauling Junk also has impressive brand recognition. The franchise has been featured on The Oprah Winfrey Show, ABC's Shark Tank, HGTV's House Hunters. Also featured on AMC's The Pitch, Bravo's, The Huffington Post, Forbes, Inc, The Millionaire Matchmaker, TLC's Hoarding: Buried AliveandFox Business, as well as in The Wall Street Journal, The New York Times, the USA Today, Time magazine, and more.
Any questions regarding relocating to another home or office or just getting ready for Spring clean up to take the junk away. Call and contact Julie Barrett at www.CollegeHunksDayton.comor call 937-668-3269
Release ID: 108451