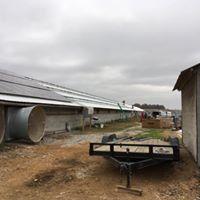 - October 1, 2021 /PressCable/ —
Florida based solar energy company has launched updated panel installation solutions for businesses, homeowners, and recreational applications. New 400w panels and multiple inverter and new battery options. The company's team of SEIA- and NABCEP-certified engineers and technicians offer a complete package of consultation, custom configuration, and installation services.
More details can be found at https://www.sunnydsolar.com
The latest announcement details a range of economic and environmental benefits for customers choosing to convert their domestic energy supply to exclusively solar-powered or hybrid sources.
According to C2ES, renewables made up 17% of net US electricity generation in 2018 and has been growing exponentially since. Solar generation is projected to account for 48% of renewable energy by 2050 as more and more consumers make the switch to clean electricity.
Sunny Day Solar is offering customers its industry-leading 25-year warranty on all solar products and services. The dedicated team provides ongoing maintenance solutions for customers, ensuring that new systems continue to run efficiently for years to come.
Clients can enjoy peace of mind that their new installation will provide reliable power with a minimal environmental footprint. The company is A+ rated by the Better Business Bureau and with NO complaints. An exclusive distinction rare in any industry. They too take over more than any other in their territories due to their long standing good reputation. It is proud of its record of zero official complaints throughout its long history in the solar energy sector.
For landowning clients, the company offers complete design and installation of solar farm facilities. From modestly sized to large-scale operations, sun-powered panels need only take up an acre of space on a property to produce a significant and lasting passive revenue. Clients can expect a no-risk high yield of 12% to 45%.
Customers also benefit from a range of government-sponsored concessions, grants,/or and rewards for making the switch to renewable energy. The Federal Investment Tax Credit pays back 26% of the cost of solar installation for home owners. Commercial includes the added benefit of reducing taxable burdens further with MACRO tax credits offer similar tax-based incentives and rebates, which can reduce costs by a further 20% as well as 25% grants to all agriculture and rural businesses.
About Sunny Day Solar Farms LLC
The company was founded in 1995 as an electrical and technologies contracting business before going solar exclusive by Marc Hager, an electrician, contractor, and renewable energy specialist with over 25 years of experience in the solar power sector.
Marc says, "After years in the business, I still love what I do. We get to help individuals save money and take control of their power production instead of renting it. We also help businesses to become more profitable by reducing overheads."
With its latest launch of new technologies, Sunny Day Solar Farms LLC continues to set the standard for green energy and cost-efficient investment in renewable solar power.
For more information, please visit https://www.sunnydsolar.com
Release ID: 89047705