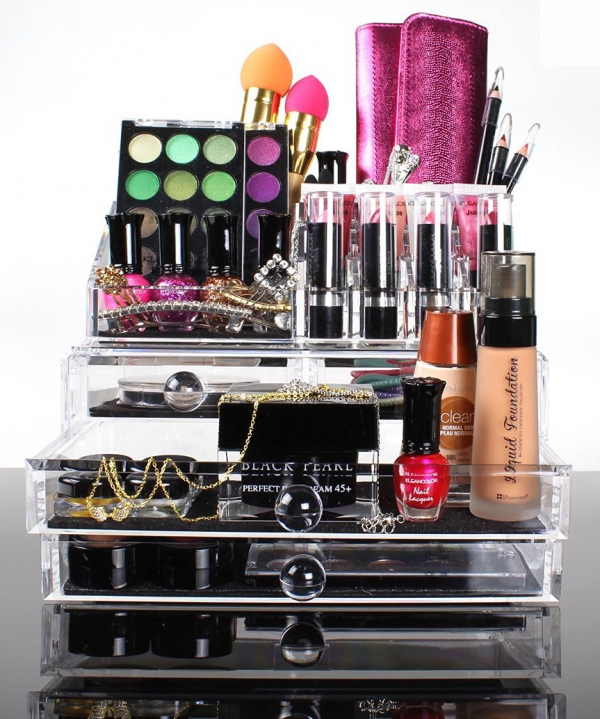 - October 12, 2016 /PressCable/ —
"There are so many days to celebrate: birthdays, anniversaries, valentine's day, and sweetest day. You can get the standard flowers or candy, but they don't last. Why not get your sweetest a gift they can use every day forever?" prompts company spokesperson Rob Bower. "Our acrylic makeup organizer is attractive, durable and a perfect gift. We encourage you to surprise your sweetest with something new this year."
Sweetest Day is celebrated annually on the 3rd Saturday of October, and it is intended to show romantic affection (much like Valentines Day). Cosmopolitan Collection is encouraging men to buy their sweetest a new makeup organizer.
The Cosmopolitan Collection Amazon Makeup Organizer is the top ranked organizer on Amazon.com. Made of a clear acrylic, the organizer is durable and easy to clean. The organizer can be stacked, or separated into two pieces, and contains 4 drawers and many other slots for various makeup products and brushes.
Customers have loved the makeup organizer, and out of 150 reviews, 98% of customers say they like their makeup organizer. Satisfied customer Hot Wheels wrote, "Organizers Rejoice! Who wants to be more organized? I do. Who needs more space for cosmetics and jewelry? I do. This organizer definitely utilizes space efficiently! I can fit all my cosmetics (lipstick, foundation, brush set, eyelash curler) plus skincare items. This organizer is a dream come true!! I was so fortunate to get this to help me stay neat and organized in exchange for my unbiased review. I am not the best photographer. I can tell you however that this is the best acrylic organizer I have seen and used so far. It takes up a lot less space and holds a lot more then the others I have. This organizer is approximately: 9.4 x 5.9 x 7.32. Professionally packaged and arrived in perfect condition. Fabulous gift idea for a bridal shower, birthday, wedding and for the real organizer that wants the best! Get it !"
For a limited time, the Cosmopolitan Collection Acrylic Makeup Organizer is priced at $29.97, a special price for Sweetest Day, and is sold exclusively on Amazon.com. Any order over $49 will ship for free. Cosmopolitan Collection stands behind their organizer, and any customer not completely happy with the Acrylic Makeup Organizer can return it for a full refund of the purchase price.
About Cosmopolitan Collection : "As an honest and ethical company, Cosmopolitan Collection focuses all energy, resources, and effort to organizing the world in a beautiful way. By creating a single, acrylic makeup organizer, Cosmopolitan Collection works to improve the world by bringing the best quality makeup organizer in the world to market so that all men and women can use and enjoy the product at a reasonable price."
Release ID: 137718