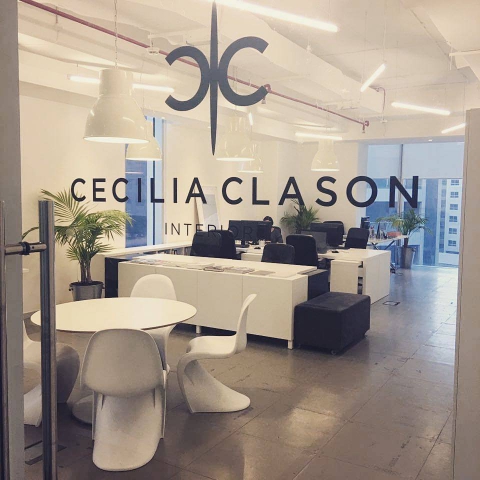 - September 28, 2017 /PressCable/ —
Cecilia Clason Interior Designers have moved its team to larger, more centralised office headquarters in Dubai.
The new location in Al Barsha provides a stronger presence and an easy, accessible location to meet new and existing clients, arrange events and carry out demonstrations.
Cecilia Clason Interiors have been based in Dubai since 2006, opening their first design studio in 2008. Since then, they have enjoyed continued success and have worked hard to become one of the most well respected interior design teams in the Emirate.
The interior design company in Dubai have a long history of creating relaxing and harmonious spaces to spend time in, complete with some surprising elements. Their stylish interiors have attracted a wide variety of names, and they have worked with big name clients including Sheikh Mohammed bin Rashid al Maktoum.
Thanks to the growth of the business, and outgrowing their former site, the company decided to look at new offices that could provide the space and facilities to accommodate the demands of the expanding operation.
Making the move to a new, state-of-the-art work space means that the interior specialists can now start the process of moving forward with plans and a strategy for developing their company further.
Commenting on the move, founder Cecilia Clason, said, "We're very excited to be moving our team to a larger space.
"I wanted to create a refreshing and inspiring work environment, which facilitates creativity. Our new site, at Code Business Tower in central Al Barsha does exactly this."
"The move is central to our plans for the future. With its interior, facilities and location, our new address has everything we need to concentrate on moving forward.
"The past few years have been an exciting time for the business. Dubai is an incredibly vibrant and dynamic place to both live and work. We've embraced this energy and have ran with it, which has culminated in our most successful year yet."
Currently, the team is working with longstanding clients and are busy taking their existing brands to the next level. They are also busy working with a small boutique designer hotel, and expanding their range of office interior design in Dubai at Cecilia Clason.
Speaking of what lies ahead for the business, Clason has a clear cut vision. "In terms of the future, we have a very strong residential and corporate background, and plan to grow and expand into the hospitality sector.
"There is a huge passion for interior design here, and the team is excited to settle into the new workspace and continue serve the good people of Dubai."
Cecilia Clason Interiors is situated at 401, 4th Floor, Code Business Tower, Al Barsha 1, Dubai 75111, U.A.E. They have launched a new free guide called "10 Secrets to Increasing Your Profits with Great Office Interiors in Dubai", which can be downloaded here: https://www.ceciliaclasoninteriors.com/free-office-interior-design-dubai-guide
About Cecilia Clason Interiors
Cecilia Clason Interiors are a well-renowned interior design company based in central Dubai. Creating spaces which are innovative, elegant and above all, well thought out.
Having delivered both hospitality and residential projects in the UK, UAE, France, Norway, Oman and Saudi Arabia, Cecilia Clason Interiors has become an International Interior Design Company in Dubai.
Clients include Aramco, Ritz Carlton Group, Holiday Inn, Jebel Ali Hotel Group, The Kempinski Hotel Group, The Radisson Blu Group, Shangri-la and Traders.
Release ID: 243628