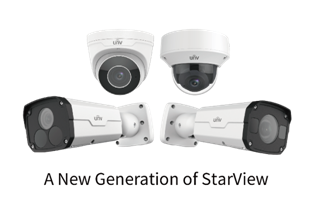 - March 22, 2018 /PressCable/ —
Alarm Systems Brisbane has put together a new feature rich CCTV Security surveillance camera system for home and business requirements. Individuals that are keen to find out more about these CCTV systems can view the full article.
Read full article here: http://alarmsystemsbrisbane.com/cctv/
High resolution is the trend of video surveillance. However, with the increase of pixels, the light-sensing area of each pixel decreases with the same size of sensor. Uniview launched the new generation of StarView series which includes 5MP IP cameras, enabled higher resolution products with excellent Starlight illumination sensibility. The 5MP series applies 1/2.7" backside illumination technology sensor to deliver enhanced low light sensitivity and wide field of view.
"The StarView series redefines starlight by minimum illumination" an Alarm Systems Brisbane spokesperson says. "The light passes through the aperture and enters into the sensor, hence generates an image. The factor determines the brightness of image is how much light enters into the sensor. The more light enters into sensor, the brighter image an IP camera can produce. The Super Starlight of StarView series is built in big iris lens to raise the brightness. And it can reach up to 0.0005 luxillumination."
According to Alarm Systems Brisbane there are 4 models in the Uniview's 5MP starlight range. They include eyeball dome, vandal IR dome, and IR bullet cameras, all with motorised lenses, as well as 2 models of fixed lens turret.
The new 5MP 1 /2.7-inch sensor forms part of the Starlight range and offers excellent low light performance down to just 0.001 lux in colour. Three new models of 8MP camera add to the existing 4K range: Eyeball dome, vandal dome, and IR bullet cameras, all with 4x motorised lenses. These 3 new models feature a brand new ½-inch sensor that radically improves low light performance to 0.003 lux and creates lower price points.
Anyone who has a specific question about a past, present, or future article can contact Alarm Systems Brisbane via their website at http://alarmsystemsbrisbane.com/
Release ID: 318254