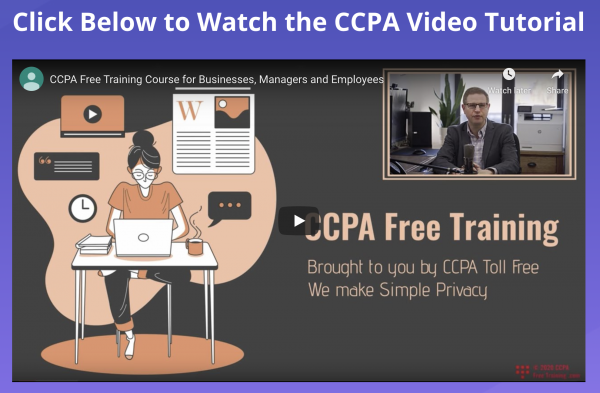 - April 20, 2020 /PressCable/ —
Claymont, DE—(PressCable)—CCPA Toll Free, a privacy management solution enabling businesses to comply with the California Consumer Privacy Act (CCPA), today announced the launch of the www.CCPAFreeTraining.com video training course with learning questions that businesses can use to help meet the CCPA's legal requirement that they train employees in the law.
Offered free of charge to the business community, all training program participants who watch the 30-minute video and answer the related learning questions will receive a training certificate demonstrating their course completion. The CCPA requires businesses to train all employees who either handle consumer inquiries about privacy, or who are responsible for the business's CCPA compliance.
Intended for a business audience, the course is suitable for store associates and customer care representatives who engage with consumers in person, on the phone and via email and chat. It is also suitable for designers of products that collect personal information, for marketing and other managers deciding how to use information, and for IT personnel responsible for the technical aspects of information collection, retrieval and deletion.
The video course is packed with practical techniques and relatable examples to assist businesses with creating privacy programs that combine responsible use of consumer personal information with delivering strong value to consumers and shareholders.
The course agenda tracks the CCPA's requirements to train team members in the rights that the law provides to consumers, how consumers can exercise those rights, and how businesses should respond. For example, it covers a consumer's right to know about the personal information that the business collects and shares, the right to request a copy of personal information, the right to ask a business to delete personal information or to ask a business not to sell it.
"In our current era of big data, businesses can deliver unprecedented convenience to consumers. Simultaneously, privacy laws like the CCPA require businesses to use data respectfully and responsibly. There's an art to striking the right balance between data collection and use, and providing customers with transparency and meaningful choices about their privacy. We hope CCPA Free Training will assist businesses in navigating these challenges." said Marc Mandel, co-founder of CCPA Toll Free.
"CCPA Free Training exemplifies our passion for privacy at CCPA Toll Free. That passion extends to building software tools enabling businesses to manage their privacy programs. Businesses that adopt our tools encourage our commitment to providing the learning resources at CCPA Free Training free of charge to the business and privacy community." said Julian Salam, co-founder and CTO of CCPA Toll Free.
CCPA Toll Free plans to regularly update CCPA Free Training in response to changes in the law. It is currently based on the latest version of the CCPA as it was most recently amended on October 11, 2019, and the latest draft regulations released by the California Attorney General on March 11, 2020.
CCPA Toll Free intends for the course to help satisfy the CCPA's training requirements for businesses, and by necessity, the course does not cover the operational aspects of any particular business's privacy program. Accordingly, CCPA Toll Free recommends that businesses update their privacy policies for CCPA and provide them to team members to read in conjunction following CCPA Free Training, to be sure that team members receive comprehensive training in the law as implemented for their business.
CCPA Toll Free offers small, medium and enterprise businesses no-contract monthly and annual plans for software solutions that manage CCPA compliance. The plans are free for 14 days and deployable on a same-day basis. They include immediate access to the 866-I-OPT-OUT privacy hotline, a customizable web form for meeting the CCPA's "Do Not Sell My Info" requirements, and a secure dashboard for managing and demonstrating compliance.
About CCPA Toll Free
Launched in 2019, CCPA Toll Free empowers businesses of all sizes to implement privacy best practices by offering consumers multiple methods to learn more about the use of their personal data, and to register their privacy preferences. From same-day deployment, to customizable voice prompts and web forms, to powerful compliance tools and enterprise integrations, CCPA Toll Free makes it easy to implement effective privacy compliance that signals to consumers respect for the privacy of their personal information. To learn more, visit CCPATollFree.com.
Release ID: 88954255