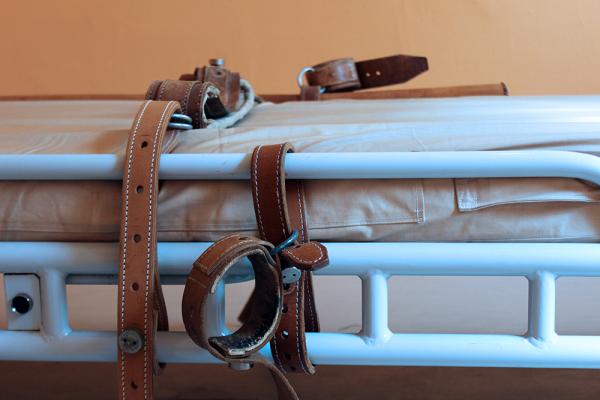 - September 7, 2021 /PressCable/ —
Lethal restraint uses in psychiatric facilities and in police take-downs of suspects has been prominent in the news for the past few years and the mental health watchdog, Citizens Commission on Human Rights International has praised State actions now being taken to curb this. The most recent action involved Elijah McClain, a 23-year-old African American man who died following a police restraint in Aurora, Colorado in August 2019. CCHR's concern was that he was injected with a powerful sedative in the fatal encounter that provoked national outcry during racial injustice protests last year.
McClain's death helped inspire a sweeping police accountability law in Colorado, a ban on chokeholds and restrictions on the use of the sedative, ketamine.[1] FOX31 News Problem Solvers spent nearly two years investigating ketamine's use and found a handful of questionable cases, including the death of Elijah. In July 2021, Governor Jared Polis signed into law the restricting of ketamine's use and limiting it to medical professionals in true medical emergencies.[2]
Colorado state representative Leslie Herod stated, "we took a significant step forward in our state to improve policing and end the misuse of ketamine, which has had dangerous and deadly consequences for Coloradans."[3]
Elijah was injected with an amount of ketamine appropriate for someone 77 pounds heavier than his 143-pound frame, without determining if it was necessary and without monitoring him for side effects afterward. In a chokehold, he gasped that he could not breathe, lapsed into unconsciousness and was later declared brain dead at a hospital.[4]
Medical News Today reports that victims of ketamine "may lose consciousness or be confused and compliant."[5] Because of this, is dubbed a "date rape" drug because as it also causes amnesia, a victim may not remember an assault of them the next day.[6] In some cases, the drug has caused heart or breathing failure and required those injected to be revived or intubated.[7]
Rev. Fred Shaw, Executive Director of the NAACP Inglewood-South Bay branch, a spokesperson for CCHR and co-founder of its Task Force Against Racism and Modern-Day Eugenics, was among many that wrote to legislators and Colorado's state governor, opposing the use of ketamine to restrain any individual in or outside psychiatric hospitals and nursing homes.[8] Rev. Shaw stressed the need for policy changes nationally to ban the use of chemical restraints not just by police but also by staff in behavioral facilities.
This aligns with a World Health Organization guideline on mental health in the community issued on July 10, 2021, that called upon countries to prohibit "coercive practices such as forced admission and treatment, seclusion and restraint." People who are subjected to such coercive practices report feelings of dehumanization, disempowerment and being disrespected, according to the guidelines.[9]
Federal regulations restrict the use of physical and (mind-altering) chemical restraints to discipline patients in hospitals receiving federal funding. This year, Michigan and Utah moved to restrict the use of restraints.[10]
Placing a person in a restraint puts the person at risk of trauma, injury, and even death. According to one study, between 50 to 150 people die each year in the United States as a result of seclusion and restraint practices, according to The Justice Center for the Protection of People with Special Needs. The Medical Director's Council of the National Association of State Mental Health Program Directors deems the use of restraint as a "treatment failure."[11]
Neuroscientist Carl Hart, chair of Columbia University's psychology department, was quoted by ABC News, stating: "Why anyone would be giving ketamine in that circumstance is beyond me. The major problem here is we should never be ordering any medication, and no one should be taking or given it against their will."[12]
Elijah had been walking home from a grocery store after buying iced tea and was stopped by police based only upon a 911 caller reported a man who seemed "sketchy." Family and friends described McClain, a massage therapist, as a gentle and kind introvert who volunteered to play his violin to comfort cats at an animal shelter. His pleading words captured on police body camera video—"I'm just different"—painfully underscored his apparent confusion at what was happening, Associated Press reported.[13]
CCHR, established in 1969, has helped obtain more than 190 laws worldwide to provide protections for people treated in the mental health system, including restraint restrictions.
[1] "Colorado grand jury indicts 3 officers, 2 paramedics in Elijah McClain's 2019 death," Associated Press, KTLA News, 1 Sept. 2021, ktla.com/news/nationworld/colorado-grand-jury-indicts-3-officers-2-paramedics-in-elijah-mcclains-2019-death/
[2] Lori Jane Gliha "Colorado ketamine bill signed into law, limits police influence on sedative's use," Fox News 31, 6 July 2021, kdvr.com/news/problem-solvers/colorado-ketamine-bill-signed-into-law-limits-police-influence-on-sedatives-use/
[3] Ibid.
[4] Op. cit., Associated Press, KTLA News, 1 Sept. 2021
[5] "Colorado Restraint & Drug Death Should Be Investigated for Racism Link CCHR Says," CCHR International, 7 July 2020, www.cchrint.org/2020/07/07/colorado-restraint-drug-death-should-be-investigated-for-racism-link-cchr-says/, citing: www.medicalnewstoday.com/articles/320409.php
[6] Ibid., citing: www.bloomberg.com/news/features/2019-02-05/ketamine-could-soon-be-used-to-treat-suicidal-ideation; www.efficientgov.com/public-safety/articles/what-to-know-about-ketamine-a-common-date-rape-drug-8DxnS7OteEhx7UmX/
[7] Ibid., citing: "At urging of Minneapolis police, Hennepin EMS workers subdued dozens with a powerful sedative: EMS workers used date rape drug ketamine, stopping some suspects' hearts or breathing," The Star Tribune, 15 June 2018, www.startribune.com/at-urging-of-police-hennepin-emts-subdued-dozens-with-powerful-sedative/485607381/
[8] Ibid., CCHR International, 7 July 2020
[9] Jan Eastgate, "World Health Organization New Guidelines Are Vital To End Coercive Psychiatric Practices & Abuse," CCHR International, 11 June 2021, www.cchrint.org/2021/06/11/world-health-organization-new-guidelines-are-vital-to-end-coercive-psychiatric-practices-abuse/; "Guidance on Community Mental Health Services: Promoting Person-Centered and Rights-Based Approaches," World Health Organization, 10 June 2021, pp. 3, 8, www.who.int/publications/i/item/9789240025707 (to download report)
[10] Hannah Rappleye, "Michigan to ban restraints in youth facilities after Cornelius Frederick's death," NBC News, 2 Apr. 2021, www.nbcnews.com/news/us-news/michigan-ban-restraints-youth-facilities-after-cornelius-frederick-s-death-n1262756; Connor Richards, "Paris Hilton, Utah County lawmakers celebrate signing of youth treatment center bill," The Standard-Examiner, 6 Apr. 2021, www.standard.net/news/government/2021/apr/06/paris-hilton-utah-county-lawmakers-celebrate-signing-of-youth-treatment-center-bill/
[11] "Reducing the Use of Restraints," The Justice Center for the Protection of People with Special Needs, www.justicecenter.ny.gov/reducing-use-restraints
[12] Op. cit., CCHR International, 7 July 2020, citing: "Elijah McClain was injected with ketamine while handcuffed. Some medical experts worry about its use during police calls," ABC News, 1 July 2020, www.nbcnews.com/news/us-news/elijah-mcclain-was-injected-ketamine-while-handcuffed-some-medical-experts-n1232697
[13] Op. cit., Associated Press, KTLA News, 1 Sept. 2021
Release ID: 89044366